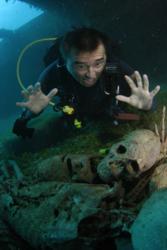 Glens Falls, NY (PRWEB) April 28, 2011
For more than 40 years, PADI– the Professional Association of Diving Instructors – has set the standard for quality, fun and excellence in diver education. In fact, more divers worldwide participate in PADI programs than any other, making PADI diver credentials the most recognized and respected in the world. http://www.padi.com/scuba/
Rich Morin's experiences in the Diving Industry are widespread. He completed his professional training under the direction of PADI President and Co-Founder, Ralph Erickson. Once certified as a PADI Instructor Development Course (IDC) Staff Instructor, Rich had the opportunity to work with Mr. Erickson as a member of his professional staff. In 1990 Rich started a Dive School and soon after opened his first of two PADI 5 Star IDC Dive Centers. With over 100 different recreational and professional programs now being offered (many which he has authored), his focal point is always on customer service and what can be done to benefit the diving community. In January 2007 he issued his 4000th student certification. With just shy of 9000 personal logged dives and 5600+ hours underwater, Rich Morin's pretty much has grown gills! His credentials are some of the best in the industry. In addition, Rich is very proud to have some of the industries top professional diving educators working with him. For more than 20 years this team has been responsible for over 200 underwater recoveries and the Dive Center is also recognized as a leader in Ice Diving training.
20 Warren St. Glens Falls, NY 12801 (518) 761-0533 Fax (518) 761-0420
richmorin(at)yahoo(dot)com
http://www.richmorinsproscubacenters.com/
Rich is also actively involved in the development of Professional Divers including Divemasters, Assistant Instructors, Instructors, Police, Fire, Rescue and Public Safety dive teams. It is his goal to educate PADI IDC Candidates along with other Professional Divers to realize the importance of keeping current with continuing education programs, customer service and marketing techniques, along with equipment knowledge, assisting his customers with equipment investments, travel, and health for diving. Rich is currently working on developing numerous PADI programs for law enforcement agencies that include Underwater Crime Scene Technician, Underwater Crime Scene Investigative Specialist, Evidence Collecting, Underwater Photography of a Crime Scene, Underwater Videography of a Crime Scene, Victim Recovery of a Crime Scene, and Vehicle Recovery of a Crime Scene.
###