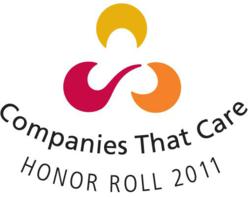 "We have a longstanding reputation as a great place to work, and our low turnover rate and consistently high number of job applicants bears that out," says Michael Maron, president/CEO, Holy Name Medical Center
Teaneck, New Jersey (PRWEB) April 29, 2011
Holy Name Medical Center has appeared for the second consecutive year on the Center for Companies That Care Honor Roll. The Honor Roll is a national list recognizing employers for outstanding workplace practices and active community involvement, and includes privately-held, publicly-traded, and not-for-profit organizations. Holy Name is the only New Jersey hospital on the list.
Michael Maron, president/CEO, Holy Name Medical Center, says, "Many of the companies on the Honor Roll are respected, national organizations, and we're proud that Holy Name is counted among them. We have a longstanding reputation as a great place to work, and our low turnover rate and consistently high number of job applicants bears that out." He notes that the values of HNMC's sponsors, the Sisters of St. Joseph of Peace, are evident among employees—"Not only in their daily work with patients and each other, but with a charitable mindset that extends beyond our walls, with numerous staff members volunteering their time and skills to humanitarian efforts locally and around the world."
Center for Companies that Care honors organizations that promote "employee appreciation, work/life balance, and giving back." Winners are chosen on the basis of a written application and employee survey results. A "company that cares" must consistently demonstrate 10 characteristics that define it as a "caring, responsible organization.":
1. Sustaining a work environment founded on dignity and respect for all employees
2. Making employees feel their jobs are important
3. Cultivating the full potential of all employees
4. Encouraging individual pursuit of work/life balance
5. Enabling the well-being of individuals and their families through compensation, benefits, policies and practices
6. Developing great leaders, at all levels, who excel at managing people as well as results
7. Appreciating and recognizing the contributions of people who work there
8. Establishing and communicating standards for ethical behavior and integrity
9. Getting involved in community endeavors and/or public policy
10. Considering the human toll when making business decisions
"These employers are among the best in the nation," says Marci Koblenz, co-founder and president, Center for Companies That Care. "They have remained engaged with their employees and communities to understand their needs and, in most cases, not only meet them, but exceed them. They clearly realize how values-driven practices make a difference."
Center for Companies that Care is a nonprofit organization dedicated to enhancing the well-being of employees, families and communities by helping employers cultivate supportive working conditions and strengthen their local community. It is the third organization to repeatedly recognize Holy Name Medical Center for its outstanding work environment. The Medical Center has been cited annually since 2006 by NJBIZ's "Best Places to Work in New Jersey" program and by Modern Healthcare magazine's national "Best Places to Work in Healthcare" for three years in a row.
Holy Name Medical Center is a fully accredited, not-for-profit healthcare facility based in Teaneck, New Jersey, with off-site locations throughout Bergen County. Founded and sponsored by the Sisters of St. Joseph of Peace in 1925, the comprehensive 361-bed medical center offers leading-edge medical practice and technology administered in an environment rooted in a tradition of compassion and respect for every patient. Holy Name provides high quality health care across a continuum that encompasses education, prevention, early intervention, comprehensive treatment options, rehabilitation and wellness maintenance—from pre-conception through end-of-life. Affiliation with the NewYork-Presbyterian Healthcare System brings an added dimension to care, in the form of increased access to clinical trials, highly specialized physicians, and expanded opportunities for professional medical education.
###