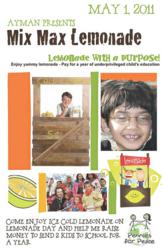 These children will learn a critical lesson in marketing - you can't compete on price alone
Portsmouth, NH (PRWEB) April 30, 2011
With thousands of entrepreneurs and business owners facing economic doldrums and financial hardships, thousands of children are getting a leg up on learning the skills they need to be successful in the future.
This Sunday, May 1st, 2011 is Lemonade Day and will be celebrated across 31 American cities. These children will learn basic entrepreneurial skills – including goal setting, business planning, establishing a budget, seeking investors, customer service, and giving back to the community. They will put their education to the ultimate test with the opening and operating of their own lemonade stands.
Charles Gaudet of Managed Marketing, LLC will join other philanthropic leaders as well as Lemonade Day's Founder, Philanthropist and Entrepreneur, Michael Holthouse in kicking off Lemonade Day in Houston, Texas with the hopeful anticipation of expanding Lemonade Day to New Hampshire's seacoast in 2012.
"I first heard of Lemonade Day when a representative of the nation's leading Entrepreneurial University, Babson College, informed me of their participation. And, I can't imagine any entrepreneur on the planet not wishing that they had the same gift shared with them when they were kids. Heck, I sure wish I did and I'm just so happy I can be a part of this year's event," says small-business marketing expert, Charles Gaudet.
"These children will learn a critical lesson in marketing – you can't compete on price alone," says Charles Gaudet. "They'll be forced into thinking how to make their lemonade stand stick out from their friends and encouraged to infuse their business with a unique personality much like their own."
"And, those young entrepreneurs who approach their stand by asking themselves 'How can I give my customer a greater product and experience' will find likely find themselves yielding a more financially rewarding experience," says Gaudet, "let alone the fact that they will find greater purpose in their business which ultimately forms the foundation of the greatest enterprises on the planet."
A whole new generation of entrepreneurs will be budding this Spring as tens of thousands of children are expected to take part in this year's Lemonade Day and become a whole new generation of entrepreneurs.
"Entrepreneurship fuels the culmination behind everything that makes this country great and it's truly an honor and privilege to have been invited to Houston to see this extraordinary experience shape the lives of our future leaders," says small-business marketing expert, Charles Gaudet.
About Charles Gaudet: Gaudet has been called the "World's Most Inspiring Small Business Expert" for consistently delivering windfalls of profits to his clients by unveiling hidden assets and opportunities that have been previously under-utilized or have gone unnoticed. Gaudet started his first business before the age of 5 when he set up a tollbooth in the hallway to his parent's bathroom, and has been ferociously committed to the study of successful business practices. He is the founder of Managed Marketing, LLC and writes a blog found at the company's website.
About Managed Marketing: Managed Marketing, LLC is a leading marketing consulting firm with percentage-of-profit fees. The company specializes in finding two or more overlooked marketing opportunities commonly found in most small-to-medium sized businesses and customizing actionable marketing strategies to increase a company's profits by 30% or more in as little as five days.
About Lemonade Day: Lemonade Day provides an opportunity for families, businesses, community organizations, and schools to come together for a common purpose – to train the next generation of entrepreneurs through a free, fun, engaging, and experiential activity. Lemonade Day is part of Prepared 4 Life, a non-profit that provides fun, proactive and experiential programs infused with life skills, character, education and entrepreneurship. Register your child or learn more information about Lemonade Day at http://www.lemonadeday.org.
Contact: Charles E. Gaudet II
603-294-4096
http://www.ManagedMarketing.com
Blog: http://www.ManagedMarketing.com/blog
# # #