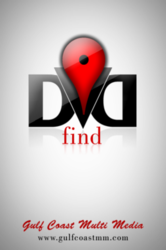 (PRWEB) April 29, 2011
Gulf Coast Multi Media introduces DVDFind, a new GPS-enabled utility app for the iPhone, iPad and iPod Touch. From anywhere in the world, DVDFind can utilize a user's GPS coordinates to locate the nearest movie stores and rental kiosks. DVDFind displays a map and highlights nearby locations that offer movies and games for rent or purchase – including national chains (such as Wal-Mart, Target and Barnes & Noble), local movie stores and kiosks (such as DVDNow, Redbox, Blockbuster Express, among others).
The DVDFind app allows users to locate any DVD kiosk or store in the immediate area, with the option to customize a location range of up to 10 miles from the specified address. When searching for a location, users can choose to find only kiosks, only stores or both. Users can also search ahead of time by typing in a specific address including work, vacation or travel destinations in the U.S. and internationally.
An additional feature is the option to proceed directly to the company's website to reserve or purchase a DVD, game or Blu-ray disc of choice, right from the mobile device. Users are able to go directly to the movie kiosk or retail website from the search results, which are either displayed on a map or in list format. Once at the site, a user can read descriptions and reviews for a movie or game as well as watch movie trailers. Some kiosk websites will have the option to reserve DVDs, games or Blu-ray discs ahead of time, while some national or local stores offer the option to buy movies, games and other various items available for purchase directly from the website.
DVDFind is a user-friendly application, essential for any movie buff! The app is available for download for only $.99 in the iTunes store http://bit.ly/kQcSw3 or directly from Gulf Coast Multi Media at http://www.gulfcoastmm.com.
# # #