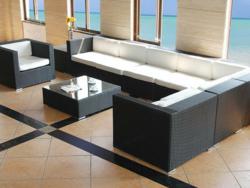 I want my online store to be about quality above all else: not just quality products, but quality connections.
San Diego, CA (PRWEB) April 30, 2011
Springtime in the west is a beautiful time of warm weather, sunny beaches, blooming plant life, and outdoor dinners with friends and family. Incidentally, it is also the most popular time of year to invest in outdoor furniture. From daybeds to bar sets, bistro tables to deep-seating outdoor armchairs, the variety of patio furnishings on the market is truly impressive. And with the grand opening of online store OutdoorSofa.com, consumer selections are about to get that much bigger.
OutdoorSofa.com is, as its name implies, primarily a retailer of outdoor sofas and sectional sets. It provides a modest collection of high-quality sofa sets from a number of reputable manufacturers, including Harmonia Living. But despite its current catalog size, there seems to be ample room for expansion.
"This is just the beginning, really," says Ben Harvey, the owner and CEO of OutdoorSofa.com. "Obviously the site is just getting its legs under it with a small – but really, really quality – collection of wicker, teak, and resin sofas. But within a year or so we hope to expand our product line to at least double our current inventory."
Harvey views his partnership with Harmonia Living as the first essential step toward long-term success.
"They're a big manufacturer, big players, and they really deliver an amazing product. And I want my online store to be about quality above all else: not just quality products, but quality connections. I want my customers, my employees, and even my manufacturers, to feel very connected. We're going to do everything we can to make sure everyone involved gets something great out of every deal. And I think signing a deal with Harmonia Living, and their esteemed products, is an important part of that mission."
Harmonia Living has been manufacturing its own line of unique and often innovative patio furnishings since 2009. While this makes the company still relatively young in the renowned field of outdoor furniture design and crafting, they have already made some waves with their unorthodox styles. Even their standard outdoor furniture sets are designed to be as uniquely beautiful as they are strong. Their Rubixx and Mixture models are distinctly modern and unique among patio furniture, for example, while offerings like the Astoria are more traditional pieces.
OutdoorSofa.com is online now and can be found here. Products will be uploaded soon and the site (as well as its catalog) will continue to be updated constantly.
Harvey and OutdoorSofa.com has been in talks with many big-name outdoor furniture manufacturers to sell their products. More word on these negotiations should be forthcoming sometime in the near future.
# # #