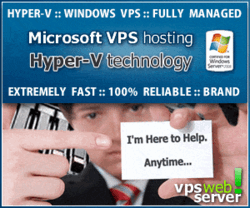 Our customers are very happy with SmarterTools software. Immediately after we announced our partnership on our website, customers started to contact us in large numbers requesting installations and praising us for offering them such an opportunity
Chicago, IL (PRWEB) April 30, 2011
VpsWebServer.com, the leading provider of fully managed Hyper-V Windows VPS hosting solutions, today announced its partnership with software developer SmarterTools Inc.
As a SmarterTools partner, VpsWebServer.com will now offer the SmarterTools software bundle as an add-on to its Windows VPS offerings at no additional cost. Valued at $800, the software bundle includes professional versions of the SmarterMail mail server, SmarterTrack help desk and SmarterStats Web log analytics and SEO software.
''Our customers are very happy with SmarterTools' software. Immediately after we announced our partnership on our website, customers started to contact us in large numbers requesting installations and praising us for offering them such an opportunity," said Amir Cicak, VpsWebServer CTO.
In addition, the partnership allows VpsWebServer.com to offer affordable pricing for SmarterTools software upgrades.
For more information, visit http://www.vpswebserver.com/smarter-tools/.
# # #