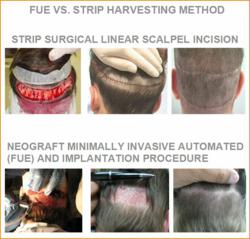 North Valley Plastic Surgery Introduces the "state-of-the-art" solution for hair loss…the first MINIMALLY INVASIVE FDA Approved
Automated Hair Transplant System.
Phoenix Arizona (PRWEB) April 30, 2011
There are several methods used for hair transplants. The "strip" method or FUT (follicular unit transplantation) is the most commonly performed method. The FUE (follicular unit extraction) method, a minimally invasive method of hair transplantation introduced in the late ninety's and the automated FUE method, the newest most advanced method of hair transplantation available today.
This old style of hair restoration surgery has been a scary proposition, preventing many hair loss patients from restoring their full, normal hairline and correcting their alopecia (baldness). Neograft™ is a new FDA approved technology to automatically harvest individual micro grafts or FUE (Follicular Unit Extraction) and then gently implant them using a secondary automated hand piece.
The process is for the most part "no touch" and because of the automation, the procedure is much faster compared to previous methods. Neograft™ differs from the "strip method" in several ways. The strip method requires that a scalpel is used to cut a linear section of donor tissue from the back of the head. The patient is left with a large wound that must be pulled together under tension and closed using staples or sutures. North Valley Plastic Surgery believes that the Strip Graft method of hair restoration is obsolete.
The strip method can be very traumatic with more bleeding, greater chance of infection, long term "tight and numb" feeling and a large linear scar, which if you wear your hair short....can be very unattractive.
In the strip method, once the donor section is excised, it is handed over to a team of technicians who then dissect out individual grafts. The problem with this is that the consistency level is reduced when you have multiple technicians cutting grafts by hand. Possibility of graft transaction is increased which further decreases the graft viability rate. i.e. Graft Death. With the Neograft™ technique, no scalpel is needed and no traumatic strip of tissue is taken. This means there is no unsightly scar as a result.
Individual micro grafts are gently extracted using Neograft™ resulting in pristine, transplant ready grafts with no additional cutting or preparation needed. Because of NeoGraft's automation, each graft is extracted with the same consistency in diameter and length resulting in a dramatically increased graft viability rate of 95% or greater. A better outcome is achieved in almost all Neograft™ Scottsdale Arizona cases than in the strip method, and typically at a lower cost! Because of the automation, Neograft™ allows us to perform this premium FUE procedure much faster and with great control and efficiency compared to the manual extraction method.
Furthermore, our hair restoration patients find that there is virtually no pain, bleeding or post procedure trauma with Neograft™ and in most cases, the donor area is completely healed and undetectable in less than a week.
Generally speaking, permanent hair restoration is priced by the number of "grafts" in the procedure. Other hair transplant surgery procedures are more expensive the greater the number of grafts, which can be dependent on the level of hair loss, your specific goals, the quality of your hair i.e. coarseness, color and curl, and the donor hair amount. Prices are anywhere from five dollars ($5) to twelve dollars ($12) per graft with tiered discounts offered with volume.
North Valley Plastic Surgery hair restoration patients have not only been very pleased with their surgical results and their appearance, but with their overall experience. Neograft™ Hair Restoration is the premier state of the art hair restoration procedure available today. Neograft™ is more efficient, more effective, more cost effective, and an overall better procedure than the old strip graft technique. There are no disfiguring donor site scars, no prolonged recovery periods from invasive surgery, and better results!
For more information on hair loss treatments visit http://www.nvpsaz.com/neograft-hair-transplanting.html or call North Valley Plastic Surgery at (480) 304-5477 to schedule your complimentary consultation about your Neograft™ Hair Restoration.
Steven Gitt MD, FACS is the founder and medical director of North Valley Plastic Surgery in Phoenix Arizona. Dr. Gitt, who is certified by the American Board of Plastic Surgery and The American Board of Surgery, is a member of the American Society of Plastic Surgeons and has been practicing Plastic Surgery for 18 years in Phoenix, Arizona.
###