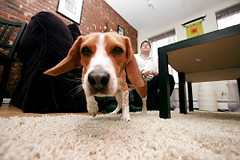 More accurate detection means that if there is any kind of bedbug infestation, the dog will alert us to it and control measures can begin
Berkeley, CA (Vocus/PRWEB) April 29, 2011
Advanced K9 Detectives, the first company in the United States to offer certified bedbug locating dogs, has expanded its operation to cover San Francisco, Atlanta, and Washington, DC. With bedbug infestations invading homes and businesses in these cities at an alarming rate, the need to accurately detect these small parasitic insects is acute. Using dogs to detect bedbugs is more accurate, quicker and cheaper than other methods.
According to a report by entomology researchers at the University of Florida, well-trained dogs can detect a single live bug or egg with 96 percent accuracy. Advanced K9 Detectives says the accuracy rate for traditional exterminators is around 30 percent.
"More accurate detection means that if there is any kind of bedbug infestation, the dog will alert us to it and control measures can begin," says Carl Massicott, owner of Advanced K9 Detectives.
Traditional extermination takes a lot of time because people need to visually inspect every surface of a room. Dogs are much more efficient: "A dog's keen sense of smell can detect bedbugs in all crevasses quickly, while it takes an exterminator hours to perform an inspection," explains Massicott.
Canine bedbug detection is also more cost-effective than traditional methods, which is why it's in high demand with hotels, businesses and private homes.
Canines have an excellent sense of smell, which is used for a number of purposes including assisting with missing persons, drug enforcement, and bomb detection cases. Advanced K9 Detectives dogs are certified by the NESDCA (National Entomology Scent Detection Canine Association) for detecting infestations of live bedbugs and eggs.
Advanced K9 Detectives has established themselves in Connecticut, Massachusetts, Long Island, New York, Philadelphia, and New Jersey, and now they serve San Francisco, Atlanta, and Washington, DC.
For more information about Advanced K9 Detectives, call them at (888) 523-3284 or visit them on the web at http://www.advancedk9detectives.com.
About Advanced K9 Detectives
Advanced K9 Detectives was the first company in the United States with the first certified bedbug dogs. They now have multiple teams and offices throughout the country and have a growing reputation domestically and internationally. Advanced K9 Detectives LLC is a family-owned company committed to quality bedbug detection and inspection service. Their dogs specialize in scent detection and are trained to find live bedbugs and viable eggs only.
###