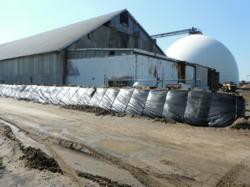 Metropolis, IL, and Fort Meyers, FL (PRWEB) April 29, 2011
Seed and crop product retailer River AG of Illinois has hired Sentinel Barriers of Fort Myers, Fla., to provide TrapBag® cellular containment barrier systems around the entire perimeter of River AG, located in Metropolis, Ill. TrapBag® barriers are installed to help protect the Southern Illinois business from the mighty Ohio River, which has already caused flooding problems in the immediate area.
"River AG of Illinois has taken a proactive approach to the Ohio River flooding to protect their business and products, which is a very smart move as we see certain areas have already been flooded," said Everett "Buzz" Waid, president of Sentinel Barriers and inventor of the patent-pending TrapBag® barrier system. Bulk container manufacturer AmeriGlobe, of Lafayette, La., provided the barriers.
TrapBag® portable barriers are rapid and low-cost deployment cellular containment systems whose uses include flood control, erosion control, mudslide repair and prevention, pollution spill barrier and other applications where a secure container barrier system is needed.
Each TrapBag® barrier system incorporates a series of 100-foot-long pentagon-shaped cellular containers with a common flexible portion separating each individual cell. They are connected side by side like an accordion, with separate cells within, making it easy to deploy and store. Each cell is sloped on one side, vertical on the opposite side and open at the top for filling. For the River AG of Illinois flood-control project, 4-foot-high and 6-foot-high TrapBag® container barrier systems are in place.
TrapBag® barrier system segments are hung on a guide rail system of a mobile delivery device where they are filled with sand or gravel (or other fill material) from a front-end loader, excavator or other heavy machinery. A tractor pulls the delivery system while the hopper is loaded to fill each cell. A crew of four can provide up to one mile of TrapBag® barrier protection in about 24 hours.
News stories report Metropolis Mayor Billy McDaniel saying the Ohio River is a "very, very mean lady at times," and that this could be the worst flooding in more than a decade. Flooding has already closed Fort Massac State Park, near the River AG operation, and is threatening others businesses that are also near the river. Massac County officials are bracing for what some say could be "historic" flooding.
Heavy rains in April have also threatened to drive the Mississippi River to record flood levels.
About Sentinel Barriers:
Sentinel Barriers President Everett "Buzz" Waid invented the TrapBag® cellular containment protection system after helping the town of Fort Myers Beach, Fla., recover from Hurricane Charley in 2004. TrapBag® barrier systems have also been proven effective in the Florida Everglades and other major projects. The company has extensive experience in providing barrier protection, and is presently providing assistance to state departments of transportation for primary flashflood erosion protection and mudslide abatement, as well as bridge-foundation protection. Waid can be reached at (239) 229-5285.
# # #