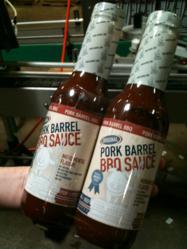 "Thanks to Costco we've been able to move from a regional BBQ sauce brand to the fastest growing BBQ sauce brand in America." ~Brett Thompson, CEO and co-founder of Pork Barrel BBQ
Washington, DC (PRWEB) April 29, 2011
Pork Barrel BBQ today announced Costco Wholesale Corporation will carry Pork Barrel BBQ Original BBQ Sauce in 15 Costco stores across the Mid-Atlantic region.
Costco stores will be selling twin packs (2-24 ounce bottles) of Pork Barrel BBQ's national award-winning Original BBQ Sauce. Customers at Costco stores across Virginia and Maryland can now enjoy the BBQ sauce Men's Health Magazine named as an "essential item" for grocery shopping lists and the Best BBQ Sauce in America.
The stocking of Pork Barrel BBQ Original BBQ Sauce on the shelves of Costco is a significant achievement for the Alexandria, VA based company that began in December 2008 with two entrepreneurs selling BBQ sauce and spice rub one bottle at a time out of their basements. Since then, the company has quickly become a national brand with its products available in over 1,300 grocery stores in 40 states.
"The support and encouragement Costco provides small businesses like Pork Barrel BBQ is almost unheard of in the grocery industry," said Brett Thompson, CEO and co-founder of Pork Barrel BBQ. "Thanks to Costco we've been able to move from a regional BBQ sauce brand to the fastest growing BBQ sauce brand in America."
After discovering Pork Barrel BBQ on ABC's Shark Tank, Costco became one of the earliest retail supporters to give Pork Barrel BBQ the opportunity to introduce its line of gourmet BBQ products to a national consumer audience through its Road Show program.
"Having our BBQ sauce on the shelves of Costco stores is a dream come true," said Heath Hall, President and co-founder of Pork Barrel BBQ. "A little over 2 years ago we were a two-man operation with a vision to create a great tasting and healthy BBQ sauce that everyone from the backyard BBQ'er to the veteran pitmaster could enjoy and afford. Thanks to Costco, hundreds of thousands of consumers will have the opportunity to make this summers BBQ season even better with Pork Barrel BBQ Sauce!"
A complete list of Costco store locations in the Mid-Atlantic region that are selling Pork Barrel BBQ sauce is below. To find locations where Pork Barrel BBQ products are sold, visit the company's store locator and online interactive map at: http://www.porkbarrelbbq.com/store-locations/.
Costco Locations Carrying Pork Barrel BBQ Sauce
Costco 204 (Fairfax) – 4725 W. Ox Rd. – Fairfax, VA 22030
Costco 214 (Beltsville) – 10925 Baltimore Ave. – Beltsville, MD 20705
Costco 218 (Sterling) – 21398 Price Cascades Plaza – Sterling, VA 20164
Costco 225 (Manassas) – 10701 Sudley Manor Dr. – Manassas, VA 20109
Costco 227 (Newington-Springfield) – 7373 Boston Blvd. – Springfield, VA 22153
Costco 233 (Pentagon City) – 1200 South Fern St. – Arlington, VA 22202
Costco 239 (Winchester) – 251 Front Royal Pike – Winchester, VA 22602
Costco 330 (Frederick) – 10 Monocacy Blvd. – Frederick, MD 21701
Costco 334 (Chantilly) – 14390 Chantilly Crossing Ln. – Chantilly, VA 20151
Costco 337 (Leesburg) – 1300 Edwards Ferry Rd. – Leesburg, VA 20176
Costco 340 (Fredericksburg) – 3102 Plank Rd. #600 – Fredericksburg, VA 22407
Costco 626 (Potomac Mills) – 2700 Potomac Mills Cir. Ste 200 – Woodbridge, VA 22192
Costco 1039 (Brandywine) – 16006 Crain Highway SE – Brandywine, MD 20613
Costco 1078 (Woodmore Town Center) – 2400 Five Lees Lane – Lanham, MD 20706
Costco 1089 (Chesterfield Relocation) – 1401 Mall Dr. – Richmond, VA 23235
About Pork Barrel BBQ
Pork Barrel BBQ was founded in December 2008 during the peak of the economic crisis to prove that a company not owned or operated by the federal government could succeed, and that if you had a good idea, it was still possible to grab a piece of the American Dream. Pork Barrel BBQ founders, Heath Hall and Brett Thompson, ran the company out of the basement of their houses, selling their award winning BBQ products one bottle at a time. In less than one year, their Pork Barrel BBQ Sauces and Spice Rub were carried in over 1,300 stores in 40 states. Throughout their journey, they have stayed true to their mission – to unite the nation through the great tradition of BBQ, and bring bipartisan flavor to your next meal. The Pork Barrel BBQ Competition BBQ Team entered its first contest, The Safeway National Capital Barbecue Battle, in June 2009, and walked away with two trophies – Second Place in the "Nations Best BBQ Sauce Contest" and Fourth Place for their pulled pork in the Memphis In May portion of the contest. Since then, the team has won multiple awards, including the "People's Choice" award for best BBQ sauce in 2010 and other notable Memphis and May and Kansas City Barbecue Society competition accolades as well as having their Pork Barrel BBQ Original BBQ Sauce named Best Sauce in America and one of "The 125 Best Foods for Men" by Men's Health Magazine in November 2010. For more information, visit http://www.PorkBarrelBBQ.com or follow Pork Barrel BBQ on Facebook and Twitter.
# # #