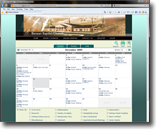 Calendar Companion takes the ordinary calendar to a whole new level. It offers administrators the ability to update events on their website in real time
(PRWEB) April 29, 2011
Calendar Companion integrates seamlessly with Sermon Companion to provide pastors the ultimate audio experience with Calendar Sermon Solution. Ben Dickie, of Sermon Companion, reveals this cutting-edge technology to the Christian Community.
As a believer in the Christian philosophy that everyone should be able to hear the gospel of Jesus Christ, Mr. Dickie is passionate about offering Sermon Companion free for listeners and free for churches. Sermon Companion gives anyone the ability to hear sermons of any denomination from their home computer or certain phone applications.
Sermon Companion is a web-based media delivery solution accessible directly through the internet or cell phone. It allows users the ability to search through an audio archive unique to a specific church by speaker, date, title, series and scripture.
In an interview with publicist Tatyana Gann, Dickie explains, "Sermon Companion is free for listeners. You can stream and download sermon audio and video from anywhere around the world for free."
With the development of Calendar Companion, churches now have the ability to tie into the cutting-edge audio sermon technology of Sermon Companion.
Calendar Companion takes the ordinary calendar to a whole new level. It offers administrators the ability to update events on their website in real time. Dickie cites, "There are a plethora of customization options available to administrators with this calendar, giving each church total control with their events."
Some of the other benefits of Calendar Companion include:

Hassle free, easy-to-use interface
Seamlessly integrates with Sermon Companion
Congregations can sign up for automated email reminders to event categories which they wish to follow
Ability to set certain events as private
Savvy pastors will want to take advantage of this new offer just announced by Sermon Companion. Sermon Companion is giving away a free, ongoing monthly subscription to Calendar Companion for churches that have signed up or will be signing up for Standard or Premium packages.
For more details about Calendar Companion, please visit http://www.calendarcompanion.com.
To obtain an account and immediately begin uploading sermons, register at the Sermon Companion website at: https://www.sermoncompanion.com/signup.aspx.
For media inquiries, please contact publicist Tatyana Gann at smokinhotpr(at)gmail(dot)com
For immediate contact information, Ben Dickie is available for interviews and speaking engagements.
Publicist: Tatyana Gann 615-354-7625
# # #