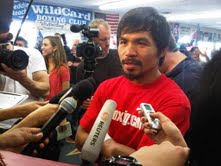 Hollywood, CA (PRWEB) April 30, 2011
On the early afternoon of April 20, 2011 on Wednesday, a special media day training in Wild Card Boxing Club in Hollywood which began at 2 p.m. for the Eight Division World Champion, businessman, entrepreneur, singer and Congressman Emmanuel "Manny" Dapidran-Pacquiao aka "Pacman". Also notable sports authority and celebrities present was five time trainer of the year,Trainer Freddie Roach; Team Pacquiao; Hall of Fame promoter Bob Arum; Former WBF Feather Weight Champion of the World Orlando Villaflor; members of the press and many others.
The press day started with a one-on-one conversation with getting to know the Trainer Freddie Roach. SCCPress.com reporter Regina Ong-Garcia had a live interview and asked Trainer Freddie Roach what his thoughts were of Manny Pacquiao's future in boxing. Freddie Roach said, "Manny will continue to box for over five more years and may run for president of the Philippines." Regina also inquired and said, "What is your favorite Filipino food?" Freddie said, "I don't really eat much of it but I like chicken adobo."
Then the Pound for Pound Megastar Manny Pacquiao stepped inside the gym and was huddled towards a huge group of press mania. Then he walked around the inside of the boxing ring and randomly selected media's in the outside ring to let them asked a question or two. Others were fortunate to get a complimentary photo-op with him too.
Pacquiao proceeded forward to his workout activities from boxing on the ringside alone, jump rope exercise and different punching techniques on punching bags. After the training was over, Manny who is a devout Catholic proceeded with his routine prayer of kneeling, and a moment of silence was asked for the press and other attendees.
One freelance media photographer gave his commentary and said, "I noticed he has not even done his sit-ups and is more relax than normal. So, is Freddie Roach..."
The freelance media photographer who covers sports boxing only would like to remain anonymity indicated that he is concerned for the fight. He remembers the training they had prior before and noted that Manny and Freddie were diligent and more active in the training process. In his opinion, the two are not as affected and seem not as serious as they were before the other previous fight he has been in. Therefore, he concluded that the positive energy of Manny and Freddie are showing less physical stamina and output.
Former NBA Star from the Indiana Pacers Jalen Rose visited Manny and was asked who he thought was going to win the fight? Jalen Rose indicated in so many words that they are both great fighters, and he believed Manny will be the one to take it against the Three Division World Champion Sugar Shane Mosley. However, he made no comments in regards to a possible fight with Floyd Mayweather.
The World Welterweight Championship will be held at the MGM Grand Garden Arena at MGM Grand in Las Vegas, Nevada on May 7, 2011, Saturday. The MGM Grand Garden Arena event for the fight is sold out.
For those interested to view the WBO World Welterweight Championship on television, Pacquiao vs. Mosley will be produced and distributed live on Showtime PPV beginning at 9 p.m. ET/6 p.m. in HD where available at a suggested retail price of $54.95.
Contact Info Marissa Acierto
join us on http://www.facebook.com/SCCPress
SCCPress.com Reporter Live Interview with Regina Ong-Garcia.
Courtesy Photos By Marissa Acierto /Regina Ong-Garcia/Eddie Enriquez | SCCPress.com
Photo of Manny Pacquiao during a round of questions on the outer ringside.
###