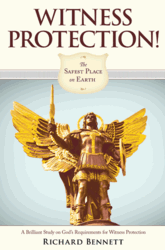 (PRWEB) April 30, 2011
The United States government has established a program that provides protection to individuals who have firsthand knowledge about a crime. God has a similar program, and as author Richard Bennett explains in Witness Protection: The Safest Place on Earth (published by WestBow Press), those who follow the Christian agenda and serve as a witness against Satan will enjoy the security of divine witness protection.
Witness Protection provides a study on God's requirements to receive such critical spiritual protection. Bennett helps Christian readers understand the importance of trusting and adhering to God's program, so that Satan's three-phase mission – stealing, killing and destroying that which is spiritual on Earth – can be defeated.
Bennett, who has more than 20 years of ministerial experience, guides the reader in dealing with personal struggles and understanding God's mission. His book also discusses God's involvement within places of employment, as this is an area people often overlook as having a strong role in their mission.
This book has carefully assessed and divulged the most critical issues that challenge witnesses on earth. God's protection is a surety for those who are faithful to observe his expectations while serving in His witness program. Some of the issues we face are external but many are internal, requiring us to do self-evaluations while on the path of divine purpose.
Witness Protection uses everyday life events, such as football, culinary experience and prenuptial agreement, to reveal greater insights into people's relationship with God and to offer practical strategies for applying God's Word into daily life. In understanding and following the Bible, Bennett explores how people can find the divine protection they are seeking.
About the Author
Richard Bennett is a native of Lake Charles, La., and a current resident of Beaumont, Texas. He has 20 years of ministerial experience and received a bachelor's degree in theology. This is his first book.
WestBow Press is a strategic self-publishing alliance of Thomas Nelson, the world's premier Christian publisher, and Author Solutions, Inc. (ASI)—the world leader in the fastest-growing segment of publishing. For more information, visit http://www.westbowpress.com.
###