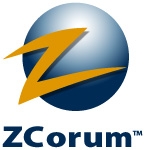 We've worked together for a dozen years and that speaks strongly of the combined strength and stability of both our companies.
Alpharetta, GA (PRWEB) April 29, 2011
ZCorum, a provider of managed broadband services and software, announced the recent extension of its 12-year partnership with Kaplan Telephone Company in Kaplan, Louisiana.
Kaplan Telephone Company (KTC) delivers phone, broadband Internet, cable television, wireless and security systems to home and business users across Vermillion Parish. "Our business is growing by leaps and bounds, but it's nice to know that we're still enjoying long partnerships and friendships with customers like KTC. We've worked together for a dozen years and that speaks strongly of the combined strength and stability of both our companies," says Julie Compann, President and COO at ZCorum.
Under the terms of the renewed agreement, ZCorum will continue to provide KTC with hosted email and technical support services, along with commercial web hosting. KTC will also continue to receive engineering support and consulting services from ZCorum's engineering team.
Part of ZCorum's strength lies in its ability to customize services for a broadband service provider like KTC. "As Kaplan's business has grown and their needs change, we continue to find ways to tailor our services. That willingness to work together is how KTC and ZCorum have maintained such a long partnership," says Neal Grillot, Vice President of Operations and New Business Development at ZCorum.
About ZCorum
ZCorum provides broadband Internet and communication solutions to telcos, cable companies, utilities, and municipalities, assisting in all facets of broadband implementation, integration, engineering and consulting, network monitoring and diagnostics. ZCorum also offers wholesale, private-labeled Internet services, including data and VoIP provisioning, email, Web hosting, and 24x7 support for end-users, enabling service providers to compete effectively in their local rural and suburban markets. ZCorum is headquartered in Alpharetta, GA. For more information, please visit http://www.ZCorum.com.
About Kaplan Telephone Company
Since 1952, Kaplan Telephone Company, Inc. has been dedicated to establishing rewarding relationships with our customers in Vermillion Parish, Louisiana by providing quality Wireless, Broadband, Security, Cable TV & Digital Telephone service, dedicated employees, and access to an advanced telecommunications network with the primary goal of exceeding the expectations of our customers by providing real people in real time with real answers. For more information, visit http://www.ktcpace.com.
# # #