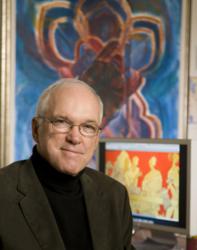 "One cannot assess the future of Muslim-Christian relations unless, or until, one confronts both minority fears and majority paranoia in the real-life experiences of Christians with Muslims…and Muslims with Christians." --Dr. Bruce B. Lawrence
Cambridge, MA (PRWEB) April 29, 2011
Dr. Bruce B. Lawrence, Duke University's Nancy and Jeffrey Marcus Humanities Professor of Islamic Studies and inaugural director of the Duke Islamic Studies Center, will present his lecture, "Islam and Civil Society: Perspectives from Egypt before and after Mubarak," on Monday, May 2, 2011 at 7:30 pm at the Episcopal Church of St. Asaph, 27 Conshohocken State Road, Bala Cynwyd, Pennsylvania.
The evening will feature the official launch of a new book, Islam: A Brief Guide to the Faith, edited by Professor Roger Allen of the University of Pennsylvania and Professor Shawkat Toorawa of Cornell University. A reception will follow the lecture.
"For months now, we've watched with fascination and hope as revolutions for change and justice emerge throughout the majority-Muslim world, and we've hungered for more insight on what it means for the future," said EDS Dean and President Katherine Hancock Ragsdale. "We're thrilled to be able to co-sponsor Dr. Lawrence's lecture on a topic so vital to our understanding of the changing world in which we all live."
"Among unnoted victims of the 'war on terror'," noted Lawrence when he was awarded a 2008 Carnegie Scholarship, "are indigenous minorities… groups who for centuries have been the standard bearers of deep pluralism within several African and Asian nation-states." Among these are Egypt's Copts, Christians living within the largest Sunni population of the Muslim world.
"On a global plane one cannot assess the future of Muslim-Christian relations unless, or until, one confronts both minority fears and majority paranoia in the real-life experiences of Christians with Muslims…and Muslims with Christians," continued Lawrence.
The program is sponsored by the Philadelphia Theological Institute (PTI), Episcopal Divinity School, the Episcopal Church of St. Asaph, and William B. Eerdmans Publishing Company.
Lawrence is a 1962 magna cum laude graduate of Princeton in History and Middle East Studies. After a tour of duty with the US Navy, he earned a Masters of Divinity from Episcopal Divinity School (Cambridge) in 1967, and in 1972 received his Ph.D. from Yale, specializing in History of Religions, with emphasis on Islam and Hinduism. In 2006 he was awarded a Th.D. (honoris causa) from Virginia Theological Seminary in Alexandria, Virginia.
He joined the Duke faculty in 1971 and continues to teach at Duke, though he has also taught at Aligarh Muslim University and Oxford and enjoyed brief stints at Dartmouth and the University of Chicago. Since 2000, he has been Duke's Marcus Family Professor of the Humanities, and since 2006, inaugural Director of the Duke Islamic Studies Center.
He has authored, co-authored, edited or co-edited fifteen books, many of which have won prestigious awards. His research focuses on Islam in all phases and all disciplines, with special attention to institutional Islam in Asia, Indo-Persian Sufism, the religious masks of violence, and contemporary Islam as both Abrahamic faith and religious ideology. In 2008, he was awarded a Carnegie Scholarship on Islam in order to pursue his current project on minority citizenship in Africa as well as Asia.
He is also an ordained Episcopal priest, serving first in the Diocese of Connecticut, but since 1972 he has been canonically resident in the Diocese of North Carolina.
The Episcopal Divinity School was founded in 1974 from a merger of Philadelphia Divinity School (founded 1857) and Episcopal Theological School (founded 1867). Both schools were noted for their progressive teaching, innovative pedagogy, as well as for being the first to welcome African Americans and women as full members of the community. The Episcopal Divinity School carries on this tradition today with its focus on interfaith issues and the practical aspects of providing ministerial leadership in this critical area.
Episcopal Divinity School
99 Brattle Street, Cambridge, MA 01238
http://www.eds.edu
Contact: Jan Nunley
617.868.3450
jnunley(at)eds(dot)edu
###