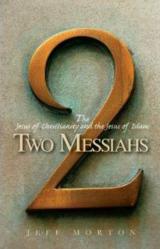 "It is important to remind the reader that Islam is not the enemy of Christianity. We have an enemy and he just happens to be the enemy of all Muslims as well." Jeff Morton
Colorado Springs, CO (PRWEB) April 30, 2011
Many Muslims hate Christianity, believing that the Bible has been corrupted over the centuries. At the same time, Muslims are taught to love and revere Jesus (Isa, as he is called in Arabic). But who is the Jesus they are taught to love—the Jesus of the Bible, or the Jesus of Islam?
In his new book, Two Messiahs by Jeff Morton, two worldviews collide on a dusty Middle Eastern road shared by Jesus and Isa. As the two journey the road together, the startling contrast between the Messiah of the Bible and a Prophet of Islam begins to unfold; one a mere man and servant of his god, the other, a divine Savior sent to save His creation.
Since 1984, Morton has ministered among Muslims in West Africa, the U.S. and other nations. At the core of his ministry is the truth that the Jesus of the Bible is not merely a prophet, but is the one and only Son of God, sent to earth to redeem mankind.
Morton writes, "It is important to remind the reader that Islam is not the enemy of Christianity. We have an enemy and he just happens to be the enemy of all Muslims as well. Our enemy blinds hearts and minds to the truth about God the Father, God the Son and God the Holy Spirit. Let's save our animosity for the real enemy. Muslims deserve our prayers, our best efforts at evangelism and our compassion."
Published by Biblica, Two Messiahs gives Christians invaluable insight into how Muslims view Jesus, and ultimately equips them to be more effective in sharing the truth of the gospel in a way that uniquely relates to Muslims. Two Messiahs is available through retailers nationwide and through http://www.BiblicaDirect.com
Author Bio:
Having lived with and ministered to Muslims since 1984, Jeff Morton is experienced in apologetics and sharing the gospel with Muslims. He first lived among Muslims in West Africa, and now lives in Southern California near one of the largest mosques and Muslim communities on the West Coast. He is a member of SIM, but is seconded to i2 Ministries. He has trained missionaries and university students in the U.S., Brazil, Thailand, and Pakistan. He is married to Debbie, mother of his four adult children
About Biblica
Celebrating more than 200 years in ministry, Biblica provides God's Word to people through translation, publishing, and Bible engagement. Biblica's ministry extends worldwide, with outreach in 55 countries. Biblica has translated the Bible in more than 100 languages and is the translation sponsor and ministry publisher of the New International Version® (NIV®) of the Bible, the most widely read and trusted contemporary English translation. Through its worldwide reach, Biblica engages people with God's Word so lives are transformed through a relationship with Jesus Christ. For more information, visit http://www.Biblica.com.
Shawna Cronan, Communications Specialist • shawna.cronan(at)biblica(dot)com • 719-867-2626 • http://www.biblica.com
###