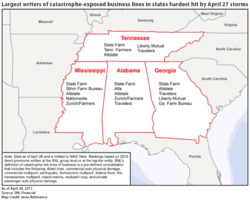 (PRWEB) April 29, 2011
SNL Financial's Property and Casualty Insurance experts have been tracking the financial impact stemming from the April 27th tornadoes in the Southeast United States. Excerpt of the latest report, with a link to the full coverage, as well as a print-ready chart and map are available for reporters covering this topic.
Excerpt of the SNL Report:
An uncharacteristically active spring storm season hit its peak April 27, as a series of tornadoes ripped through the southeastern U.S., killing hundreds and leveling property across at least six states.
As the regions' victims begin to assess the damage and file insurance claims, local insurers said the disaster will likely become the region's costliest event so far in 2011.
The South is no stranger to storm activity during the spring, but the frequency and severity of the storms seen this April have been almost unprecedented. The first week of the month brought an estimated $50 million in insured losses from a storm in Georgia, followed soon afterward by heavy hail in South Carolina that reportedly created an estimated $45 million in damages. By mid-April, the southeastern U.S. had also endured a three-day period in which the region saw approximately 250 tornadoes, accompanied by up to four inches of rain in some areas.
"We've seen a succession of strong upper-level storm systems come right across," National Weather Service meteorologist Mike Mach said. "It could continue, and generally, it's not until we get into the summertime pattern … that we have a little bit of a shift in the jet stream."
Yet none of those events could match the destruction caused by the string of tornadoe­s, some up to a mile wide, that touched down during the late afternoon April 27 and spun through the South.
Recent media reports put the death toll at 249 so far, a figure that qualifies as the single deadliest day for tornadoes in the U.S. since an April 1974 storm that hit the Ohio Valley, Mach told SNL.
"What we had was a very strong, upper-level low-pressure center that moved across at a time where we had excellent turning of the wind with height and an abundant amount of warm and moist, unstable air," he said. "All of that combined with afternoon heating to intensify the storms very rapidly, combining at the same time to produce these outbreaks."
Although individual tornadoes are typically detected less than 20 minutes before they form, Mach said that as a whole, there are striking similarities between this season and the "super outbreak" of April 1974.
"This year, it just looks like we've had a significant number of storms that have developed based upon the fact that all the parameters involved for a super outbreak have come together over the southeastern U.S.," he said.
According to National Weather Service charts, the average number of U.S. tornadoes through April 27 was 448 from 2005 to 2010. In 2011, the organization has registered 877 tornadoes.
That increase has kept the region's insurers busy throughout the month, with this latest event representing the biggest and likely most expensive challenge yet.
State Farm Mutual Automobile Insurance Co. has an 18.66% market share in the four states hardest hit by the tornadoes, according to SNL statutory insurance market share data. It has received about 8,500 claims in Tennessee and 4,000 in Alabama during the past day, representatives told SNL. Mississippi and Georgia have combined for nearly 2,000 claims. That number is expected to rise significantly as more residents return to their homes and have the opportunity to file claims.
In much of northern Alabama, spokesman David Majors said, power outages have prevented people from reporting claims. Some State Farm claims offices are also without power and unable to take calls from customers.
"In a situation like this, it's not uncommon for it to take people a little longer to report claims," Majors told SNL. "There might be a little bit longer tail of initial reporting."
Other insurers with significant market share in the region....
( CLICK HERE FOR THE FULL SNL FINANCIAL REPORT. )
# # #