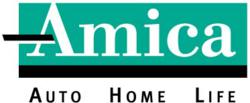 Lincoln, RI (PRWEB) April 29, 2011
Amica Insurance is concerned about everyone affected by the violent tornadoes and thunderstorms in Alabama and other Southern states, which experts say are among the most severe in recent decades.
Amica offers these tips on what to do if you're affected by severe weather:

Make sure everyone is safe. Contact family and friends. Make sure everyone is accounted for.
Don't venture outside until you're sure the storm has passed.
If you've been evacuated, don't return home until authorities have declared that your neighborhood is safe.
Don't drive on flooded roads.
Beware of downed power lines, flooded roads, debris on the road and utility hazards.
Be careful returning to a storm-damaged house. Make sure it's structurally safe before entering.
Take photos of the damage before having it removed or repaired.
Take reasonable steps to protect your property from further damage, such as covering a hole in your roof or broken window with plastic sheeting.
Remove standing water if possible.
Dry and disinfect all materials in the house to prevent the growth of mold and mildew.
Keep a record of any temporary repair costs.
"If you experienced a loss, contact your insurance company as soon as possible to report the damages," said Lisa St. Onge, an assistant vice president at Amica.
Amica customers who have suffered a loss as a result of the storms can file claims online or by using Amica's mobile app, which is available for iPhone, Android and BlackBerry smartphones, St. Onge noted. Or call Amica at 800-242-6422 anytime, day or night.
Amica also offers tips to help protect your family from tornadoes and other severe weather on the Amica Storm Center and on our News You Can Use page.
About Amica Mutual Insurance
Amica Mutual Insurance Company, the nation's oldest mutual insurer of automobiles, was founded in 1907. The company, with corporate headquarters in Lincoln, RI, is a national writer of automobile, homeowners, marine and personal umbrella liability insurance. Life coverage is available through Amica Life Insurance Company, a wholly owned subsidiary. Amica employs more than 3,200 people in 40 offices across the country.
Contact: Vince Burks, Corporate Communications, 50 Amica Way, Lincoln, RI 02865-1155
1-800-652-6422, ext. 24563.
Website: Amica.com
###