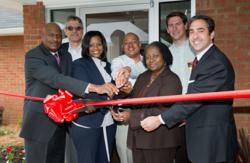 The renovation and lease-up of The Villas at Lakewood demonstrates that despite the economic recession, public-private partnerships can find creative ways to make quality affordable housing available to the working people of America.
Atlanta, GA (PRWEB) April 29, 2011
Local Dignitaries Attend Ribbon-Cutting for 192-Unit Villas at Lakewood; Hercules Real Estate Services Completes $6 Million Rehab
Atlanta City council member Joyce M. Sheperd and other local officials joined to dedicate a newly renovated rental townhome community, The Villas at Lakewood, which is now providing much-needed affordable housing options for nearly 200 families. Virginia Beach, Va.-based Hercules Real Estate Services (HRES), one of the leading affordable housing developers on the East Coast, has completed a $6 million renovation of the former Amal Heights community, located just south of downtown Atlanta at 1700 Giben Road, under the Federal Low Income Housing Tax Credit (LIHTC) program. Three-bedroom townhomes at The Villas are available from $664 per month for qualifying individuals.
The Villas residents now enjoy a new community building and outside pavilion, an all-new playground, a furnished arts and crafts activity center, state-of-the-art computer center, walking paths with exercise stations, covered pavilion with barbecue facilities and an attractively fenced community garden with gardening tools available for residents' use. Individual homes have upgraded bathrooms with new vanities, flooring and lighting. Other upgrades include new kitchen cabinets, countertops, appliances and kitchen flooring. The units have an upgraded lighting fixture package and new carpet. Hercules replaced roofs, gutters, windows, exterior doors, siding, water heaters and life safety systems. All water supply lines were replaced, and new energy-efficient heating and cooling systems were installed.
Over 160 of The Villas' units are designated affordable housing under the LIHTC program; 28 are market rate. Income qualifications for the affordable units range from $25,150 for an individual to $47,400 for a family of eight. The community is now 99 percent occupied.
The Villas' new ownership has worked closely with the community to provide a range of services to meet families' needs. The new Villages at Carver YMCA, just a half-mile away, provides discount memberships to all qualified residents. The newest YMCA in the metro Atlanta area, Carver YMCA offers licensed child care and after-school care as well as a variety of sports programs and classes including soccer, basketball, baseball, karate, dance, gymnastics and more. All residents at The Villas, regardless of ability to pay, are accepted for participation in developmental after-school programs, including pick-up and drop-off service, offered by the nearby Joseph P. Whitehead Boys and Girls Club.
Hercules acquired the half-empty Amal Heights complex, in late 2007, with plans to convert the community to affordable housing under the LIHTC program. With the challenges of the financial markets during that period, Hercules continued to seek tax credit allocations and other public financing over the next two years. By May of 2010, Hercules closed on a complicated $20 million financing structure for acquisition and renovation that included:

Federal and state tax credits issued by the Georgia Department of Community Affairs (GDCA) and purchased by Stratford Capital
Exchange funds, part of a Federal economic stimulus program, issued by GDCA
Tax-exempt bonds issued by the Atlanta Urban Residential Finance Authority (URFA) and credit enhancement by the U.S. Department of Housing and Urban Development (HUD)
Housing Opportunity Bonds issued by URFA
HOME funds provided through the City of Atlanta. HUD's HOME Investment Partnerships Program is the largest Federal block grant to State and local governments designed exclusively to create affordable housing for low-income households.
Owners' equity
"The renovation and lease-up of The Villas at Lakewood demonstrates that despite the economic recession, public-private partnerships can find creative ways to make quality affordable housing available to the working people of America," said Todd Copeland, CEO, Hercules Real Estate Services.
Founded in 1995, the family-owned Hercules Real Estate Services now owns and manages over 40 properties, comprising of over 8,000 units, in six states – Pennsylvania, Maryland, Virginia, North Carolina, South Carolina, Georgia, – and Washington, D.C. Approximately 80 percent of Hercules Real Estate's portfolio is designated affordable under the Low Income Housing Tax Credit program. In little over a decade, Hercules has emerged as one of the leading companies of its kind in the mid-Atlantic and Southeast regions. For more information, visit: http://www.herculesapartments.com.
###