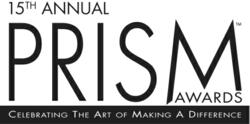 Los Angeles, CA (PRWEB) April 29, 2011
The Black Swan, The Fighter, Mad Men, Grey's Anatomy, Nurse Jackie are among the productions that were recognized at the 15th Annual PRISM Awards at the Beverly Hills Hotel Thursday, April 28, 2011. The PRISM Awards, which are produced by the Entertainment Industries Council, Inc. (EIC) in collaboration with the Substance Abuse and Mental Health Services Administration (SAMHSA) and FX, honor actors, movies, music, media and television's top shows that accurately depict and bring attention to substance abuse and mental health issues, including prevention, treatment and recovery.
"The PRISM Awards are proof positive that the entertainment industry understands these issues are important and that the creative community understands the impact on the viewing public of researching their portrayals for authenticity," said Brian Dyak, President and CEO of EIC.
Fox Searchlight Pictures' Black Swan received the top award in the Feature Film - Mental Health category; Paramount Pictures' The Fighter was recognized in the Feature Film - Substance Use category. In the television categories, AMC's Mad Men was singled out in the Drama Series Episode - Substance Use category; Grey's Anatomy for Drama Series Episode - Mental Health; Nurse Jackie and Rescue Me for Drama Series Multi-Episode Storyline – Substance Use; Parenthood for Drama Series Multi-Episode Storyline – Mental Health; and Drop Dead Diva for Comedy Series Episode.
Performance winners included Peter Krause, Monica Potter and Max Burkholder for Parenthood; KaDee Strickland for Private Practice; Tony Denison for The Closer; Aaron Paul for Breaking Bad; Halle Berry for Frankie & Alice; Toni Collette for United States of Tara; and Claire Danes for Temple Grandin.
On hand to participate were R. Gil Kerlikowske, Director of the White House Office of National Drug Control Policy and Pamela Hyde, Administrator of the Substance Abuse and Mental Health Services Administration.
"Drug use harms every part of our society that is vital to a strong America," said Gil Kerlikowske, Director of National Drug Control Policy. "Drug use has stolen away incredible talent, torn apart families, and destroyed local communities. The good news is that we are not powerless against this problem. I commend the winners of the PRISM awards for using the power of storytelling to highlight the seriousness of the drug problem and what we can do to make America healthier and safer."
"Tonight we honor and highlight the highest level of commitment to depicting true human emotion, struggle, bravery and resilience in the face of mental illness and substance abuse," said SAMHSA Administrator Pamela S. Hyde, J.D. "It is encouraging to see more and more productions portray the triumph of treatment and recovery with accuracy and sensitivity. These portrayals dispel myths and educate the public about the hope, promise and reality of recovery."
Singer/song writer Richie Supa received The Adam "DJ AM" Goldstein Recovery Advocacy Award for his work with Narcotics Anonymous for the past 22 years and his other extensive involvement with recovery programs. The award was presented by Aerosmith's Steven Tyler (American Idol).
The CBS daytime television series The Bold and the Beautiful received the inaugural PRISM LUNGevity Award in recognition of its authentic portrayal of lung cancer. The new award was created in partnership with the LUNGevity Foundation to encourage accurate depictions of lung cancer – its diagnosis, symptoms, effects, and treatment - in movies and television programs.
(A complete list of award recipients will be available at http://www.eiconline.org and http://www.prismawards.com after 7:00 PM Pacific Time April 28, 2011)
Additional award presenters included Steven Tyler (American Idol); Ken Howard (SAG President); Nicolette Sheridan (Desperate Housewives); Robert Forster (Oscar nominee), Dr. Drew Pinsky (Celebrity Rehab); Sarah Drew (Grey's Anatomy); Robert David Hall (CSI); Eric Roberts (Celebrity Rehab); Kevin Sorbo (Soul Surfer); Susan Sullivan (Castle); Joey Lawrence (Joey and Melissa); Alison Haislip (The Voice); Tim Kang (The Mentalist); Megyn Price (Rules of Engagement); Sharon Lawrence (Drop Dead Diva); Jon Huertas (Castle); Eric Szmanda (CSI); Scott Patterson (The Event/Gilmore Girls); Ashley Jones (True Blood/Bold & the Beaut.); Dee Wallace; Announcer Shadoe Stevens; Jayne Brook (Private Practice/Boston Legal); Mike Catherwood (Danc.w/the Stars/Loveline); T'Keyah Crystal Keymah (That's So Raven); Virginia Williams (Fairly Legal); Candy Finnigan (Intervention); Mark Pellegrino (Being Human/Lost); Gary Anthony Williams (Boston Legal); Danny Arroyo (Gen. Hospital: Night Shift); Jennifer Gimenez (Sober House); and Emily Alyn Lind (J. Edgar).
Honorees for the PRISM Awards are selected by an 80-person committee of entertainment industry professionals and technical experts from the fields of medicine, mental health, and addiction.
Entertainment trade publications Variety and The Hollywood Reporter are PRISM Awards media partners.
About the PRISM Awards
The Entertainment Industries Council, Inc. (EIC) annually presents, in collaboration with the Substance Abuse and Mental Health Services Administration (SAMHSA), FX Network, and News Corporation, the PRISM Awards™, a nationally-televised awards show recognizing the accurate depiction of drug, alcohol and tobacco use and addiction in film, television, interactive, music, DVD, and comic book entertainment. Established in 1997, the PRISM Awards honor productions that are not only powerfully entertaining, but realistically show substance use and addiction, as well as mental health issues.
About Entertainment Industries Council
EIC, a non-profit organization, was founded in 1983 by leaders of the entertainment industry to bring the power of the industry to bear on communication about health and social issues. The organization is considered to be the chief pioneer of entertainment advocacy outreach and one of the premiere success stories in the field of entertainment education and information resources for entertainment creators, through innovative and time-proven services and methods of "encouraging the art of making a difference" from within the entertainment industry. EIC also produces the simulcast national television special PRISM Awards Showcase which addresses issues such as drug, alcohol, and tobacco use and addiction; as well as mental health and mental illness, including bipolar disorder, depression and suicide.
EIC also addresses issues such as; firearm safety and injury prevention; sun safety and skin cancer prevention; human trafficking; terrorism and homeland security; eating disorders, obesity and diabetes; seat belt use and traffic safety; foster care; women's health; and HIV/AIDS prevention. It has also launched an initiative to increase the public profile and interest in science, engineering and technology.
About SAMHSA
SAMHSA is a public health agency within the Department of Health and Human Services. Its mission is to reduce the impact of substance abuse and mental illness on America's communities.
About FX Network
FX is the flagship general entertainment basic cable network from Fox. Launched in June of 1994, FX is carried in more than 94 million homes. The diverse schedule includes an award- winning roster of distinctive original series, an established film library with box-office hits from 20th Century Fox and other major studios and an impressive roster of acquired hit series.
The mission of LUNGevity Foundation is to have a meaningful and immediate impact on improving lung cancer survival rates, ensure a higher quality of life for lung cancer patients, and provide a community for those impacted by lung cancer. In order to accomplish its mission, LUNGevity funds the most promising research into the early detection and successful treatment of lung cancer as identified by its board of leading scientists. LUNGevity also supports the largest national grassroots lung cancer network.
LUNGevity seeks to inspire the nation to commit to ending lung cancer. For more information, please visit http://www.lungevity.org.
15th Annual PRISM Awards Winner List
Feature Film – Substance Use:
The Fighter
(Paramount Pictures / Closest to the Hole Productions / Mandeville Films / Relativity Media)
Feature Film – Mental Health:
Black Swan
(Fox Searchlight Pictures / Phoenix Pictures / Protozoa Pictures / Cross Creek Pictures)
Performance in a Feature Film:
Halle Berry, Frankie and Alice
(Freestyle Releasing / Access Motion Pictures / Reality Pictures in Motion / F&A Production Services)
Comedy Series Episode or Multi-Episode Storyline:
Drop Dead Diva – "Senti-Mental Journey"
(Lifetime Television / Sony Pictures Television / Storyline Entertainment)
Performance in a Comedy Series:
Toni Collette, United States of Tara
(Showtime Networks / DreamWorks Television)
Drama Series Episode – Substance Use:
Mad Men – "The Suitcase"
(AMC / Lionsgate Television / Weiner Bros.)
Drama Series Episode – Mental Health:
Grey's Anatomy – "Suicide is Painless"
(ABC Entertainment / ABC Studios / Shondaland / The Mark Gordon Co.)
Performance in a Drama Episode:
Tony Denison, The Closer
(TNT / Warner Bros. Television / The Shephard-Robin Co.)
Drama Series Multi-Episode Storyline – Substance Use:
Nurse Jackie: Season 2
(Showtime Networks / Lionsgate Television / Caryn Mandabach Productions / Madison Grain Elevator / De Long Lumber / Jackson Group Entertainment)
Rescue Me – "Legacy"/"Change"/"Comeback"/"Blackout"/"Sanctuary"
(FX Network / Sony Pictures Television / DreamWorks Television / Apostle Pictures / Cloudland Co.)
Drama Series Multi-Episode Storyline – Mental Health:
Parenthood: Seasons 1 and 2
(NBC Entertainment / Universal Media Studios / Imagine Television)
Female Performance in a Drama Series Multi-Episode Storyline:
KaDee Strickland, Private Practice
(ABC Entertainment / ABC Studios / Shondaland / The Mark Gordon Co.)
Male Performance in a Drama Series Multi-Episode Storyline:
Aaron Paul, Breaking Bad
(AMC / Sony Pictures Television)
Ensemble Performance in a Series:
Peter Krause, Monica Potter, Max Burkholder, Parenthood
(NBC Entertainment / Universal Media Studios / Imagine Television)
Daytime Drama Series Storyline:
One Life to Live: Hannah and Cole: Paying It Forward
(ABC Daytime)
TV Movie or Miniseries:
When Love is Not Enough: The Lois Wilson Story
(CBS Entertainment / Hallmark Hall of Fame Productions)
Performance in a TV Movie or Miniseries:
Claire Danes, Temple Grandin
(HBO Films / Ruby Films)
Children or Teen Program:
Nick News with Linda Ellerbee – "Under the Influence: Kids of Alcoholics"
(Nickelodeon / Lucky Duck Productions)
Documentary Program – Substance Use:
Addicted – "Jeremy"
(TLC)
Documentary Program – Mental Health:
Wartorn: 1861-2010
(HBO Documentary Films / Attaboy Films)
Talk Show Episode:
Dr. Phil – "Brandon Intervention"
(CBS Television Distribution)
Unscripted Non-Fiction Program:
If You Really Knew Me – "Riverside High School"
(MTV / Arnold Shapiro Productions)
Biographical Program:
American Masters – "Merle Haggard: Learning to Live With Myself"
(PBS / Spothouse GmbH / American Masters)
News Magazine:
E! Investigates – "Teen Suicide"
(E! Entertainment Television)
Music or Music Video:
Richie Supa: "Last House on the Block"
(iTunes)
Comic Book Storyline or Graphic Novel:
Greek Street #12-14
(Vertigo Comics)
Justice League: The Rise of Arsenal #1-4
(DC Comics)
Original DVD:
Mississippi Damned
(Morgan's Mark)
Public Service Project:
This Emotional Life
(Vulcan Productions)
PRISM LUNGevity Award:
The Bold & the Beautiful : Lung Cancer
(CBS Entertainment / Bell-Phillip Television Productions)
Adam "DJ AM" Goldstein Recovery Advocacy Award:
Richie Supa
EIC President's Award:
In the Rooms
# # #