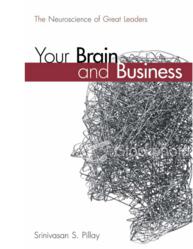 Cambridge, MA (PRWEB) April 29, 2011
Harvard psychiatrist, professor, brain-imaging researcher, certified master executive coach, and award-winning author Srini Pillay, MD. has recently released a provocative new book, Your Brain and Business: The Neuroscience of Great Leaders (FT Press, Hardcover, April 2011). The book provides intriguing insights into the business world based on the integration of organizational psychology and brain science—and shows us how we can translate brain power into booming business success. "To make more money and put your strategies to work requires more than file drawers filled with paper plans or psychological 'insights' based on observations. Brain science illuminates business-related facts that we simply cannot see from the outside," says Dr. Pillay.
Dr. Pillay is also the CEO of NeuroBusiness Group (http://www.neurobusinessgroup.com), an executive coaching company whose client roster includes top consulting firms, Novartis, Genzyme and The World Bank. His book, which was peer-reviewed by Wharton Business School, has been called a tremendous resource for coaches, leaders and managers in almost every profession.
In his book, Dr. Pillay discusses:

Cutting edge-techniques to help you accelerate from thought to action
Why positive thinking is not just a well-meaning approach to making more money, and how it can actually impact the brain in specific ways
How understanding brain science can help you use your intuition more effectively and be a more effective innovator
How leaders who fail do so because their brains expose their intangible vulnerabilities and suddenly convert their chances for success into chaos
Why so few businesses actually institute real change—and how understanding the brain can help businesses grow
Dr. Pillay has recently been featured in print, radio and television outlets including Forbes.com, Epoca Magazine in Brazil, Fox News, HLN, Nancy Grace, The Business News Network, Oprah Radio (Dr. Laura Berman's show), Martha Stewart Whole Living, Elle, and Cosmopolitan. He is an extremely engaging, knowledgeable and interesting guest.
To arrange an interview or to receive a copy of the book for review, please contact:
Mike Graff
mgraff(at)investorrelationsgroup(dot)com
IRG/PR
212.825.3210
###