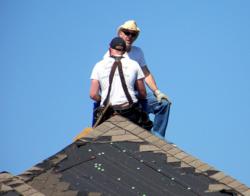 "Tornadoes can strike anywhere – in poverty-stricken areas, or in upscale neighborhoods. The outcome is always the same: people in shock... deeply traumatized." - Cherie Minton, Co-Founder
Nashville, TN (PRWEB) April 30, 2011
Disaster response teams from Hope Force International have been deployed into the aftermath of deadly storms and tornado outbreaks across the southern half of the United States. Disaster Response Teams were deployed to Chattanooga, Tennessee and nearby communities within 24 hours of the killer storm where they are involved in food distribution, hydration and emotional and spiritual care. Hope Force is also responding in the community of Harvest, Alabama (near Huntsville) – an area hard hit by the recent rash of destruction. Assessments are underway in Mississippi and Georgia where Hope Force has a team of Reservists preparing to assist in disaster-stricken areas.
"Our teams are involved in the application of blue tarps to help prevent further water damage, home repair, debris removal alongside emotional and spiritual care," explains Cherie Minton, Co-Founder of Hope Force. "The magnitude of damage is indescribable. We have staged three teams working in all four affected states. The images of the storm's destruction dramatically illustrate the unbelievable ferocity and damage of these storms."
The killer storms have been responsible for almost 350 deaths, making it the second-worst in US history. The current numbers are expected to rise as rescuers comb through rubble and debris. Officials are bracing for a serious humanitarian crisis as hundreds of thousands of residents remain without power, clean water, fuel and food supplies.
"Tornadoes can strike anywhere – in poverty-stricken areas, or in upscale neighborhoods," Minton continues. "The outcome is always the same: people in shock... deeply traumatized... needing to know there are people who are willing to come alongside and bring desperately needed help."
Hope Force specializes in training individuals for the arduous task of disaster response. The course includes two days and two evenings of preparation for service. This training is required to be considered as a Hope Force Reservist - eligible for rapid deployment, often within 24 to 48 hours following a disaster event. The city of Rochester, New York hosts the next Reservist Training – May 12 to 14.
Hope Force International (HFI) spent more than four years in Gulf Coast communities assisting in recovery efforts after Hurricane Katrina. "Our vision is to equip and empower willing responders to serve in immediate aftermath and recovery efforts, whenever and wherever disaster strikes," Minton says. "Hope Force International has experienced rapid growth as people around the world respond to the cries of help from those who are suffering."
Funds are being sought to assist in the purchase of supplies required to accommodate ongoing relief efforts in the southern United States. Individuals wishing to contribute to the Hope Force disaster response efforts are encouraged to go to the organization's website – http://www.hopeforce.org. "This disaster is truly unfathomable," says Minton. "We have Reservists coming in from all across the nation. Please pray for the families of those who have lost their lives – literally hundreds – and for the necessary relief and recovery that will be taking place in the days and weeks ahead.
As a leading non-profit organization dedicated to disaster response, Hope Force is comprised of individuals who are dedicated to utilizing their expertise to inspire, equip and mobilize volunteers into areas of crisis around the world. Founded by Jack and Cherie Minton in 2003, Hope Force endeavors to become a leading volunteer response force, bringing hope to those affected by crisis or disaster.
As an agency dedicated to "A compassionate response to crisis and disaster" staff members and Reservists are committed to providing individualized attention and assistance to those affected by natural disasters, such as those experienced in Japan and Haiti. Hope Force also has programs targeting the "hidden poor" in Appalachia as well as those recovering from the 2010 floods in Nashville and Central Tennessee. The organization has actively been involved in Haiti since the earthquake of January 2010, which is estimated to have taken close to 300,000 lives.
More information about Hope Force can be found at the website http://www.hopeforce.org.
# # #