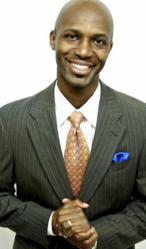 Most victories are won and lost in your resolve to never quit; therefore, no matter how long it takes, I will eventually win
(PRWEB) April 30, 2011
The New, Smart Way to Build a Network Marketing Business is revealed to entrepreneurs who want to build a successful business in today's changing economy. Visalus Science Trainer, Tony Tate shares the cutting edge strategies his Team "Transformers" uses to change people's lives and build honest wealth.
In the changing landscape of network marketing, Tate believes that it is critical to be part of a growing, solid company, belong to a tight-knit successful team and use smart, up to the minute strategies to build your business. In an interview with publicist Tatyana Gann, Tate emphasizes, "Most victories are won and lost in your resolve. I have resolved to never quit; therefore, no matter how long it takes, I will eventually win."
With this strong belief, a Visalus trainer Tony Tate has built a solid, close-knit team known as "Team Transformers". Using the time tested company ViSalus as their vehicle to health and wealth; they have developed an advanced strategy, affectionately nicknamed "The New, Smart Way to Build a Network Marketing Business".
The New, Smart Way to Build a Network Marketing Business is compromised of four cutting-edge strategies:

Use "MY FIRST 45" plan to help team members qualify for a free BMW bonus for life in their first 45 days
Use smart technology that Visalus has implemented to share the products and plan immediately from your cell phone
Use proper social media marketing to connect with new customers and turn relationships into distributorships
Use the Body by Vi ChallengeTM to transform your health in 90 days
Using these strategies and possessing a unique team spirit of true sportsmanship, Team Transformers is amongst the elite of network marketers. As Tony Tate states being part of the Team Transformers is "Possessing a passion for a cause to create change in this world that has the potential to become a movement".
Savvy entrepreneurs considering a new venture should connect with Visalus and "Team Transformers". Business pioneers who want to make a change will learn more about how Visalus can help them transform their lives by contacting Tate at http://www.tonytate.net. To learn more about how the Body By Vi Challenge™ works, a free report is available for immediate download at: http://tonytate.bodybyvi.com.
For the media: Tony Tate is available for interviews. Many resources about Tony Tate's online network marketing training, events and special webinars can be obtained at http://www.tonytate.net.
Publicist Tatyana Gann, 615.354.7625
# # #