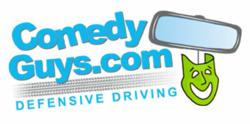 Third Base is the most pleasant place I have ever held my defensive driving classes.
Arlington, Texas (PRWEB) April 30, 2011
Arlington's Third Base Sports Bar & Grill, at 821 Six Flags Drive, is the newest driving safety class location for Comedy Guys Defensive Driving. This location becomes another of over 30 locations across Texas for the drivers to attend the Comedy Guys traffic school classes to dismiss a speeding ticket or reduce their auto insurance rates.
At present, driving safety classes are held at Third Base in Arlington on Friday and Saturday mornings, but Comedy Guys hope to expand the schedule in the near future.
"Third Base is the most pleasant place I have ever held my classes," says defensive driving instructor and professional actress Becky Jane Romine. "They provide the best atmosphere for people to feel relaxed and enjoy themselves. And the free lunch that Comedy Guys provides us to serve is out of this world: a full course meal with all refreshments provided and great attention to their comfort."
The restaurant offers defensive driving students a private dining room for classes with comfortable seating for groups of fifty or more, with large high-definition flat screen televisions for the driving safety videos that are part of the class. Defensive driving students are welcome to make use of the restaurant's pool tables, video games, and over 20 video screens showing various sporting events during breaks in their six-hour driving safety class.
Third Base is owned by Dr. Doohi Lee, who owns two other restaurants in Richardson and Frisco. "Both Dr. Lee and his wife Rosemary have been very supportive of our defensive driving classes," added Romine.
Arlington is one of the "mid cities" located between Dallas and Fort Worth, with a population of more than 360,000, making it the fiftieth largest city in the nation.
"Arlington is central to the Metroplex," says Comedy Guys Mark Cooper. "Having our defensive driving classes there makes them available to Arlington drivers, and also drivers from the western side of Dallas, the eastern side of Fort Worth, as well as cities like Irving, Grand Prairie, Mansfield."
Outside of the DFW Metroplex, Arlington is probably better known as the home of the Ballpark in Arlington, home of the Texas Rangers, and iconic Texas amusement park Six Flags Over Texas. In fact, Third Base is directly across the street from Six Flags: customers relaxing on the patio at Third Base will find themselves looking across the street at Six Flags' roller coaster, the Acme Rock-N-Rocket.
About Comedy Guys
The people at ComedyGuys.com has been teaching Texas defensive driving classes for more than fifteen years, infusing humor into the state approved driving safety course by hiring professional comedians to teach the classes. The company also offers Texas defensive driving online and hosts a blog featuring driving safety tips and amusing articles. The company is also available on Facebook and Twitter.
For the summer of 2011, the company is also sponsoring the Get Mobile! Giveaway, a text / photo caption contest that is giving away three Apple iPads.
# # #