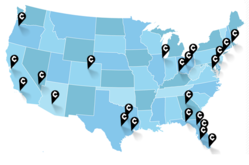 Cheapism is providing location-based tips on hundreds of the best cheap restaurants
New York, NY (PRWEB) May 10, 2011
Tourists arriving in a city for the first time and locals who've lived there for years often have the same question: 'Where can I get some good, cheap grub around here?' Cheapism.com, a review site that identifies and recommends the best cheap products and services, now also helps people quickly find cheap dining spots and other budget locales. In partnership with Foursquare, Cheapism is providing location-based tips on hundreds of the best cheap restaurants, as well as budget hotels and other wallet-friendly venues, in major metropolitan areas across the U.S.
There are two ways to tap into Cheapism's bank of tips, which range from cheap NYC restaurants to cheap San Francisco restaurants. When a Foursquare user who follows the Cheapism brand checks into a location, a message appears on the user's phone if there's a Cheapism-recommended venue nearby. Alternatively, internet users can look up cities on an interactive map at Cheapism.com/local and find tips such as specials and the best times to visit. Consumers who don't use Foursquare can also peruse our picks at Foursquare.com/cheapism.
The service is already proving popular. Within just a few weeks, the Cheapism brand has attracted more than 14,000 followers on Foursquare. Cheapism followers who check into three cheap venues will soon be able to unlock a Cheapskate badge.
To identify recommended venues, Cheapism editors scour reviews by users and experts and make recommendations based on their research. Forget having to spend time browsing through dozens of Yelp listings or searching the archives of the local newspaper. Cheapism editors have already sifted through thousands of reviews and identified some of the best-kept local secrets.
Among the areas currently showcased are New York, San Francisco, Los Angeles, Chicago, Denver, Las Vegas, Phoenix, Miami, Philadelphia, Boston, Atlanta, Austin, Dallas, and Washington DC. Additional cities are added weekly.
Follow Cheapism on Twitter, Foursquare and Facebook.
About Cheapism.com
Called by The New York Times "a Consumer Reports for the cheap," Cheapism.com is a review site that serves consumers on a budget who want the best value for their money. Cheapism is the only review site that focuses exclusively on low-price products, a part of the market often overlooked by experts.
###