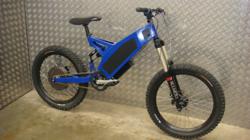 Phoenix, AZ (PRWEB) May 10, 2011
Stealth Electric Bikes USA is proud to be invited to demonstrate the tactical use of their top selling electric bikes to leaders and decision-makers at the Department of Defense, federal departments and agencies, and selected federal, state and local law enforcement and corrections agencies.
Bob Dowling, a Subject Matter Expert with Tactical, LLC based in Washington, D.C. said, "These quiet, fast, and rugged electric bicycles from Stealth Electric Bikes USA are truly amazing. In my professional opinion, this tactical invention is right up there with the Higgins Boat of WW II. Like the Higgins Boat, these Tactical Bikes will allow troops a faster and safer way to deploy into (and out of) harm's way."
Dowling is particularly impressed with the speed and distance provided by Stealth Electric Bikes USA. "Based on their advanced design and quiet technology, these Tactical Bikes are now ready to support the quick insertion and extraction operations of military and tactical personnel on and off the battlefield," said Dowling.
Stealth Electric Bikes USA will be demonstrating two electric bikes, The Fighter and The Bomber. Darin Brin, Director at Stealth Electric Bikes USA said "These bikes may look like typical mountain bikes, however these bikes are extremely quiet and powerful electric bikes that provide speed, distance and maneuverability not found in other bikes in the U.S. market today."
The Bomber can move its rider a distance of up to 50 miles with a full two-hour recharge. This 9 speed 116 pound bike is true to it's brand, Stealth Electric Bikes, with noise at a performance speed of 50mph at only 65dB.
The Fighter has a top performance speed of up to 31mph, offering distances of up to 37 miles on one two-hour charge. The Fighter uses the same quiet technology as the Bomber, the Fighter comes in at a weight of only 90lbs.
About Force Protection Equipment Demonstration (FPED VIII)
FPED VIII is held at the Stafford Regional Airport in northern Virginia on May 17-19, 2011. FPED VIII is sponsored and directed by the DoD Physical Security Equipment Action Group. The event is coordinated and executed by the U.S. Army Product Manager, Force Protection Systems. To see a demonstration of Stealth Electric Bikes at FPED VIII, please visit Van Cleve & Associates, Inc. located in section 29-M,N.
About Stealth Electric Bikes USA
Stealth Electric Bikes USA is based in Phoenix, AZ and can be found online at: http://stealthelectricbikesusa.com
###