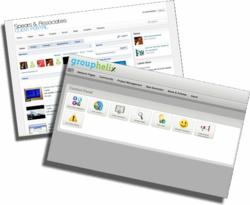 It's all about engagement. The more you engage the individuals surrounding your company or organization, the more you increase exposure, improve operations and increase revenue
Chicago, IL (PRWEB) May 10, 2011
GroupHelix is a flexible social portal, social intranet and workflow management platform. As a secure cloud-based portal, GroupHelix is custom built to integrate specific functionality into an existing intranet or stand-alone as a complete social platform. Its scalability, custom design and tailored functionality use social networking to engage a business or organization's staff and their remote locations, clients, members, vendors and resources.
GroupHelix differs from other social networking platforms with its breadth of customization, functionality and ongoing consultation, driving differentiated solutions for every client at an affordable cost.
GroupHelix allows individuals and management to:

Build departmental, client and resource portals
Build workgroups, share files and projects
Facilitate client-facing portals
Post, review and create multimedia
Easily assign tasks, milestones and set deadlines
Full transparency to track project and individual progress
Maximize real-time click-of-a-button analytics
View what the social web is saying about your organization
Monitor competition and what the world is saying about them
"It's all about engagement. The more you engage the individuals surrounding your company or organization, the more you increase exposure, improve operations, and increase revenue", says President, Kevin LaManna.
GroupHelix is built with a simplistic control panel that requires minimal to no previous technological knowledge to use, manage and administer. Internal employee adoption is easy and businesses with limited IT resources will find this simplistic, secure and easily controllable approach highly effective. With GroupHelix, the velocity at which an organization is able to knowledge-share, collaborate, engage and build greatness, is what will fuel their growth
GroupHelix is under the direction of Amy Nedoss, a marketing veteran previously with brands such as Mattel's American Girl, Park Hyatt and Saks Fifth Avenue.
GroupHelix is a product line of Duple Meter, LLC, based in downtown Chicago. Originally formed in 2008, Duple Meter was created as a technology platform for music schools, music organizations and music educators. Duple Meter, LLC later introduced Social Raise, a platform for non-profits and associations to combine social media with ways to increase organizational revenue. The methodology at GroupHelix and for all Duple Meter products is simple; engagement drives action and results.
For more information visit http://www.grouphelix.com or to request a live demonstration, please contact Amy Nedoss at Amy(dot)Nedoss(at)grouphelix(dot)com.
###