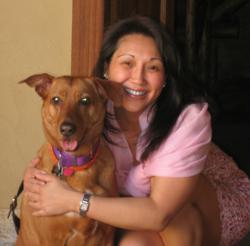 Work with a pet friendly broker today!
New York, NY (PRWEB) May 12, 2011
Introducing a brand new Manhattan based real estate website that will answer all questions and concerns when it comes to the complicated buying, renting or selling of property in Manhattan. It also boasts a blog that addresses a multitude of diverse Manhattan real estate concerns, as well as Manhattan restaurant reviews from a former professional chef.
Best of all, it features the opportunity to search approximately 20,000 exclusive listings, representing the entire database of residential listings available through the membership of the Real Estate Board of New York (REBNY)-- which means no more piece mealing a property search on all other brokerage sites, saving precious time.
Here's a sneak peek of a "How To" article featured on this site, that teaches anyone and everyone all there is to know, and how to prepare for a successful Manhattan rental experience with a pet.
Those who have had experience trying to secure a Manhattan apartment are fully aware of how hard it is to find a suitable place to live. But-- did one know, that renting in Manhattan with a pet in tow, especially a dog, throws one out of approximately 80% of rental inventory, and makes the search much trickier?
Being a pet owner, as well as a Manhattan real estate broker, here are a few tips for prospective renters if one has pets – especially a dog — that will help a prospective renter and Fido find the perfect Manhattan apartment.
Be prepared to pay for extra pet security; having seen a $1000 a dog, to half a month's rental amount, to a full month of security deposit, to nothing charged at all.
Be aware that choices will be more limiting with a limited budget. For instance, if the budget is below market; i.e. a $1800 one bedroom or even studio with a Labrador; the chances are very slim for finding a place in Prime Manhattan areas (96th St. & below). Although, a $2800(market price for a real one bedroom) on the other hand, will be a much more realistic price point in finding a place that will accept a larger breed pet. Keep in mind, the larger the dog, the less number of buildings out there that will accept the big dog; unless the prospective renter is at a healthy budget.
If one has a Pitbull, Rottweiler, German Sheppard, Doberman or any other known aggressive breed, the pool of properties is even more limited. That's because landlords can be saddled with hefty insurance premiums and liability associated with potential problems stemming from these breeds.
The typical poundage (lbs.) breakdowns in buildings are: 15 lbs. and under, 20-25 lbs. and under, and 50 lbs. and under. Some buildings can be very strict about the weight of the dog, even going so far as asking for a vet certification of the dog's weight! There will be more buildings that will allow the 15 lbs. and under dogs, versus the 20-25 lbs., and much less the 50 lbs. under which are considered the big dog buildings.
But pet lovers, all is not lost! NYC pet law states, if the landlord fails to enforce the provision within three months of the tenant's "open and notorious harboring of the pet"; the pet is allowed to stay. This is applicable to all Manhattan co-ops, condos, rental properties, even government subsidized housing.
Also, service dogs cannot be discriminated against in a non-pet building if one wishes to purchase or rent in that building.
Some Other Fun Facts:
Doorman buildings that are pet friendly often times act as doggie trick or treat stations. A dog like mine is a professional at scoping them out!
Pet owners wanting to take your dog out to play, and live on the Upper East Side close to the river, can go to Carl Schurz Park. The pet owner will have access to two dog runs; one for large dogs, another for small ones; all fronting a beautiful river walk where pet and owner can enjoy the view to and from the dog parks. Of course, there is also the legendary Central Park smack in the middle of Manhattan servicing several other neighborhoods, including the Upper East Side.
Work with a pet friendly broker today! Pet friendly rentals and sales are now available. Visit buyandsellmanhattan.com today for a complete listing of Manhattan sales and Manhattan rentals in pet friendly buildings.
Jennifer A. Chiongbian is SVP/ Associate Broker of Rutenberg Realty, NY. NY.
Further Reading: How to Rent in Manhattan
# # #