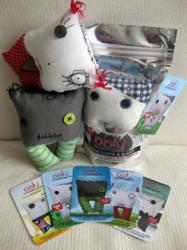 oishi...that overwhelming sense of love for an animal, or a child, or a partner …
San Diego, CA (PRWEB) May 03, 2011
They are new, they are hot and they are ingenious...guaranteed to be the "All Time" greatest mother's day gift. Recently introduced to the market, oishi time talking dolls are the new creative craze - and with 5 different characters - Bruce, Clark, Dolce, Gale and Thomas, each with a different personality, everyone is bound to find one that cries out "this is so my mom."
Oishi dolls are the brainchild of South African duo Jayde and Oran Elmaleh. The inspiration for the product itself came to art designer, Oran one sleepy morning when he realized how convenient it would be to check the time without opening his eyes. Couldn't he just squeeze the corner of the pillow and hear an announcement, avoiding the whole elaborate motion of rolling over, peeling back his lids and directing his eyeballs toward the clock display?
The oishi doll was born, each with a different personality and special qualities that make him or her uniquely lovable. The dolls announce the time when pinched, squeezed or "squoished."
Why the name "oishi" …
Have you ever loved something so much that you just wanted to squeeze it with wild, uninhibited, intense adoration? This is the sensation, defined by the word "oishi." Oran & Jayde invented this delectable descriptor to indicate "that overwhelming sense of love for an animal, or a child, or a partner …" Clearly, it is the perfect fit for such an adorable product.
Their web site http://www.oishidolls.com is a polished combination of Oran's illustration, photography and Jayde's poetry. Each of the dolls is handmade in the USA with all intention to keep the product green and earth-friendly by utilizing both new and recycled materials. The clock and alarm are easily programmable, so even if you find yourself on the other side of the International Date Line, oishi Gale (or whomever mom picks) can still speak the correct time.
"We want to share them universally," says Oran. And why not spread the love (whoops – we mean spread the oishi) in a universally understood measurement - time.
###