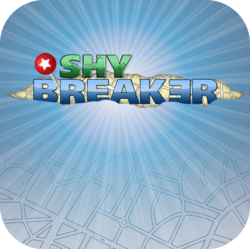 The new features added to Shy Breaker were designed specifically to enhance the ways users have been using the app and website.
New York, NY (PRWEB) May 26, 2011
Shy Breaker version 1.3 is now available for free download from the app store or from your browser at http://www.shybreaker.com. The new features added to Shy Breaker were designed specifically to enhance the ways users have been using the app and website. Shy Breaker's original mission was to give users a chance to connect with someone they weren't able or willing to approach in the moment of first encounter, as demonstrated in the YouTube advertisements geared to both gay and straight users. A user would drop a time-stamped note on the GPS map at the location of the encounter. If the other person pursued the area in question on Shy Breaker, they could read the note and reply to it privately via an inbox-based dialogue. Users soon found new ways to use Shy Breaker, dropping notes with review-style information (The sushi is great here!) or asking questions (anyone know if the bartender is single?).
To help build a stronger sense of community, comments may now be posted on notes, creating a public dialogue to counterpoint the existing private inbox communication. Users can also upload a photo avatar to their profile, but may still choose post notes totally anonymously without their image or username being displayed. The inbox has also been totally reddesigned, keeping a message history for each conversation. Finally, users may add links to their Twitter and Facebook accounts, allowing people to get to know each other better and connect outside of Shy Breaker.
To celebrate the release of Shy Breaker version 1.3, StevieSpin Digital Media is launching The Shy Breaker Awesome Note Contest through September 21st, 2011. The prize is $500 to the author of StevieSpin Digital Media's favorite note (based on originality, humor or otherwise compelling content). Full contest details available under the Contest tab at the Shy Breaker website.
The coming months will see more upgrades for the location-based social network. Shy Breaker creator, Steve "Steviespin" Lunny, says "There's a lot more to come from Shy Breaker. There's so much we want to do right now, it's really about choosing what features to focus on for each upgrade. We have a couple coming up soon that are pretty exciting. One thing I can mention is that we're expanding integration with Facebook and Twitter."
You can download Shy Breaker for the iPhone for free or use it online at shybreaker.com.. You can also follow Shy Breaker on both Twitter and Facebook.
About StevieSpin Digital Media
StevieSpin Digital Media develops interactive and animated media for web and mobile devices, with Shy Breaker being its inaugural product. The company was founded in 2011 by Manhattan-based media designer Steve "StevieSpin" Lunny.
###