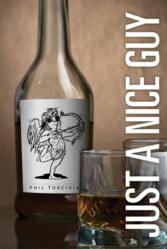 "I'm one relationship disaster away from a third cat."
Carlsbad, CA (PRWEB) May 12, 2011
Do you often wonder what men are thinking? In his book, Just a Nice Guy, author Phil Torcivia gives his readers hilarious insights into what makes men tick. If you're looking for a great summer read sure to leave you giggling, check out Phil's books, which are are available at Amazon, Barnes & Noble, Apple iBooks, and Google eBooks. You can buy the eBook version of Just a Nice Guy with immediate download to your Kindle or Nook for just $2.99.
Phil's books contain humorous essays about relationships. Women appreciate the author's open view into the minds of men. Similar to his previously released books, Just a Nice Guy contains funny tales about dating after divorce. Artist, Mike Swaim, contributes comedic drawings throughout the book, available both in paperback (349 pages) and eBook formats.
Phil writes and posts his essays on his popular Facebook blog, followed by thousands of women across the US. His books contain some of his funniest essays from his "Such a Nice Guy" blog.
Phil also entertains 30,000 Twitter followers with his daily observations.
A big fan of the eBook format, the author insists the electronic versions of his books remain cheaply priced. In fact, his previous three releases are all currently on sale at Amazon:
Such a Nice Guy - Kindle Version: $1.99 - (348 pages, released October 2009)
Still a Nice Guy - Kindle Version: $0.99 - (324 pages, released April 2010)
Nice Meeting You - Kindle Version: $0.99 - (328 pages, released October 2010)
Here are some of Amazon's customer reviews for Just a Nice Guy:
"Phil painted a very clear picture of what's going on inside a guys head. A humorous look at relationship mishaps and a witty look at life in general. If you have an open mind and sense of humor, this is a must read book!" - JC
"... a hysterical eye opener about a single man's life." - Gina
"... a day at the amusement park for your mind!" - Latonya
"If you love comedy clubs, this book will have you staying up late to finish! I was laughing out loud throughout as Phil provides a humorous look at life from a single guy's perspective." - Debbie
"This has got to be the most funniest and candid book I've ever read on relationships." - Donna
"I highly recommend this book. Real page turning, laugh out loud fun." - Cathy
The author is available for guest appearances by phone and in person. Review copies of his books may be obtained by contacting the author.
###