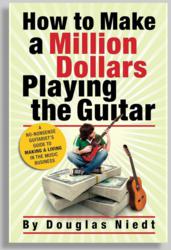 I am now reading your book a second time underlining, writing notes/plans, arguing with myself (ha ha), laughing and am fascinated with the no-nonsense information you have provided.
Kansas City, MO (PRWEB) May 02, 2011
A musician won't read "How to Make a Million Dollars Playing the Guitar" and wake up the next morning with a million dollars in his bank account. He won't wake up in five years with a million dollars in his bank account. But he WILL learn how to earn a million dollars in the music industry over the course of his music career. In his new book, guitarist Douglas Niedt explains that succeeding on this level in the music business is not for the faint of heart. It requires a person with exceptional focus, dedication, and perseverance.
In his practical and oftentimes humorous book, Niedt (http://www.MillionDollarGuitarist.com) explains that succeeding in the music business has little to do with talent, genius, education, or being well-known. The most important ingredient in achieving success in any field is having the right mindset. Niedt explains the importance of having a mission in life, maintaining a positive mental attitude, learning from failure, facing the brutal facts of reality, pursuing opportunity, perseverance, and more.
Early in the book Niedt asks the reader to truthfully answer nine questions to determine whether the reader has what it takes to succeed in the music business. And, just as important, whether the reader really even wants to attempt it because of the difficulties he will encounter. Niedt goes on to explain the importance of knowing what one wants, setting goals, honesty and reliability, getting along with people, and keeping one's financial head on straight. Niedt covers seldom-covered information on strategies for recording and making CDs, purchasing equipment, building a website, selling on the Internet, good business procedures, taxes, and how to stay financially healthy while pursuing a music career.
"How to Make a Million Dollars Playing the Guitar" is available at Amazon.com, BarnesAndNoble.com, MillionDollarGuitarist.com, and DouglasNiedt.com.
Douglas Niedt has been playing the guitar for fifty years. He has managed to make over a million dollars playing the guitar. And, most important, he is having more fun than a human being should be allowed to have.
A native of St. Louis, now living in Kansas City, Missouri, Mr. Niedt began his study of the guitar at the age of seven with his father, an amateur guitarist. He later polished his playing to gem-like brilliance through studies at the Juilliard School and the Segovia Master Classes in Spain.
He concertizes around the country, has two CDs "Pure Magic" and "In Heavenly Peace", a performance DVD "American Virtuoso", teaching videos, and books of classical guitar arrangements all available on his website http://www.douglasniedt.com.
Recognized for his excellence in teaching, he is associate professor and head of the guitar program of the Conservatory of Music and Dance, University of Missouri at Kansas City.
# # #