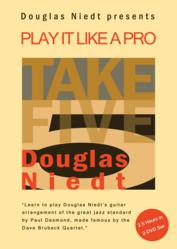 I just received the Take Five DVDs. I am very impressed by the amount and the quality of the information. It is great stuff!
Kansas City, MO (PRWEB) May 17, 2011
Classical guitarist Douglas Niedt has released a new guitar instructional DVD that teaches the intermediate to advanced guitarist how to play "Take Five," the Dave Brubeck jazz classic, measure by measure with professional-level execution. It is titled "Take Five for Guitar: Douglas Niedt's Play It Like a Pro". This is the first release in Douglas Niedt's "Play It Like a Pro" series. He will release more DVDs covering other songs for the guitar in the coming months. The series uses a new format that vastly improves the teaching effectiveness of instructional guitar DVDs.
In an interview with members of the American String Teachers Association, Niedt explained that most instructional guitar DVDs fall woefully short of providing a student with thorough, detailed instruction. The music scores are usually not included and the videos are very superficial giving only basic information.
Professor Niedt told the gathering, "I wanted to lift the quality of the instructional guitar DVD for intermediate and advanced players up to an entirely new level. Including the sheet music was a start. But I included four different versions. I began with a score in standard notation and a score in tab. That isn't unusual in itself. But then I added a version with detailed performance instructions written directly in the score. I explain in great technical detail exactly how to play every measure to enable the guitarist to play 'Take Five' on a professional level. Finally I added another annotated score that includes embedded videos."
Niedt went on to explain that this fourth version uses Adobe Systems' embedded flash video for PDF documents. Each page contains a printed measure of music with detailed written performance instructions plus its matching hi-def video explaining how to execute every nuance of the music.
In addition, the DVD set contains 28 video guitar lessons (2 hours and 27 minutes of video) shot close-up in high definition to teach the guitar student how to play "Take 5" measure by measure with pro-level execution.
Niedt placed no limitations on the lengths of his video segments. Whereas most instructional guitar video segments last under three minutes, Niedt uses videos as long as fifteen minutes to explain how to play one measure. A total of 2 1/2 hours of video is used to teach the guitar student to play this challenging arrangement that runs barely three minutes when played straight through at tempo.
Niedt's is the only classical guitar arrangement of "Take Five" approved for publication by the publisher of Paul Desmond's music. However, the fingerstyle guitar arrangement can be played on steel-string acoustic guitar, electric guitar, or nylon-string classical guitar. The arrangement is for intermediate to advanced guitar players.
The instructional guitar DVDs are available through DouglasNiedt.com.
Classical guitarist Douglas Niedt began his study of the guitar at the age of seven with his father, an amateur guitarist. He later polished his playing to gem-like brilliance through studies at the Juilliard School and the Segovia Master Classes in Spain.
He concertizes around the country, is the author of a new book on succeeding in the music industry titled, "How to Make a Million Dollars Playing the Guitar," has two CDs titled "Pure Magic" and "In Heavenly Peace," a performance DVD titled "Douglas Niedt--American Virtuoso," teaching videos, and books of classical guitar arrangements. All are available on his website http://www.douglasniedt.com.
Recognized for his excellence in teaching, he is associate professor and head of the guitar program of the Conservatory of Music and Dance, University of Missouri at Kansas City.
He continues to have more fun than a human being should be allowed to have.
###