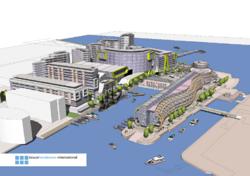 It is now clear to us that any proposal that was genuinely regenerative never stood a chance of winning the competition.
(PRWEB UK) 4 May 2011
The formal launch of a Judicial Review process by City & Eastern's (C&E) rejected casino license applicant, Great Eastern Quays Casino Ltd (GEQC), is challenging Newham Council's award of a large casino licence to Aspers. Apollo/Genting, the other rejected bidder, has now also launched its own application for leave to seek a Judicial Review. As details of the 'behind closed doors' decision come to light, C&E has revealed that the winning bid, for what is the largest casino in the UK, included no regeneration as opposed to the other two bids, including GEQC's, each of which comprised in excess of £250 million of regenerative development.
The Newham casino bid is of national significance in that with 14 other casino licences yet to be awarded across the country other councils and casino operators will be following the process with great interest, particularly with respect to the regeneration requirements of any casino bid as set out in the 2005 Gambling Act.
Fergus Kinloch, Director of City & Eastern, the developer of the site which incorporated GEQC's casino, said:
"The Judicial Review process has formally been launched as we firmly believe that Newham Council failed to comply with the proper processes relating to the bid and that regeneration, which by law should lie at the very heart of any successful casino bid, quite simply appears not to have been taken into account, or worse, swept under the carpet, by Newham Council when deciding on which bid to select.
"It is now clear to us that any proposal that was genuinely regenerative never stood a chance of winning the competition."
Aside from the absence of regeneration benefits associated with the Aspers bid, the guaranteed financial community benefits offered to Newham by Asper's are over £37million less than those offered by the City & Eastern bid (see notes to editors for details).
Fergus Kinloch added:
"Newham Council has in our view needlessly turned away over £250 million of investment plus substantial financial benefits for local residents, and at a time when councils are having to make major spending cuts. The whole situation quite simply beggars belief and certainly doesn't work in the best interests of Newham residents."
The inappropriateness of Newham Council's decision is compounded by the fact that the entire bidding process was held behind closed doors, at the insistence of Newham, from start to finish. City & Eastern would have much preferred a completely open and transparent bidding process which engaged with and involved the residents of Newham. As a result the residents of Newham have only just been able to see for themselves the City & Eastern scheme and the considerable regeneration it would have brought to the community.
On this point, Mr Kinloch goes on to say:
"As a result of this closed door policy by Newham Council, us, the other losing bidder and the residents of Newham have been kept completely, and we think, intentionally, in the dark as to how the Council reached its decision.
"Right from the outset, the key factor underpinning the whole casino licence process was urban regeneration, as set out in the 2005 Gambling Act and made clear by Newham Council itself as the key requisite of the bid criteria. What is therefore completely baffling and inconsistent with the bid remit is that it was awarded to the only bidder appearing to provide absolutely no new regeneration benefit."
Despite City & Eastern having asked Newham Council on several occasions for answers to its concerns over the decision a meaningful response is yet to be received. This has left City & Eastern with no alternative other than to pursue a Judicial Review.
Adding credence to C&E's grounds for a Judicial Review, the other losing bidder, Apollo/Genting, also launched its own Judicial Review process against Newham Council on 21st April on a similar basis to the one launched by C&E.
"We are not at all surprised that Apollo/Genting has also decided to launch its own Judicial Review against Newham Council as it too was proposing a bid with massive regeneration at its heart.", said Fergus Kinloch.
He added: "With Judicial Reviews having now been launched by both the rejected bidders, both of which had proposed large regeneration projects, this must clearly send a message to Newham Council that it cannot ignore the terms of its own brief for a casino in the Borough and the law as set out in the 2005 Gambling Act and expect to get away with it."
City & Eastern's bid consortium was made up of leading companies specifically selected for their relevant expertise and track records in development and operation to ensure the highest quality and dependency in terms of deliverability of its bid. The bid consortium also owns the development site, had the project fully funded and significantly pre-let. Whilst Newham Council's licensing committee was duty bound to disregard planning consent in their deliberations City & Eastern anyway presented its bid concept to Newham's planners (as permitted in the terms of the bidding process) who confirmed it to be within development guidelines for the site.
"Our bid had superlative credentials to deliver a first class destination based casino development with 1200 full time jobs, unlike the winning bid which only proposed to create a maximum of 440 jobs. The whole situation is simply unacceptable and short changes the people of Newham."
City & Eastern also notes with interest the comments made to the BBC by Sir Robin Wales, Mayor of Newham, in January 2007, on the news that the Borough of Newham had been awarded the ability to grant a large casino licence, as they appear wholly inconsistent with the choice of Aspers as the winning bid. Sir Robin stated then:
"The right casino would be a powerful anchor for regeneration. It would form part of an enhanced leisure and entertainment facility with restaurants, cinemas and theatres. It would bring money into the borough - from the developers directly and through the jobs the casino and leisure complex would create.
BBC London – On-line News 31.1.2007
Furthermore, unlike a Newham Council source quoted in a Sunday Newspaper on 17Th April 2011, referring to the launch of the Judicial Review process, who said: '…..The claim is quite tiresome and it will just waste public money.', City & Eastern does not feel the same way. Fergus Kinloch adds:
"This situation is extremely serious and such an attitude from a Newham Council source shows total disregard to the process of openness and transparency and also reflects very poorly on the way the people of Newham are being treated."
For further information, enquiries and images of City & Eastern's development contact:
SPS/IKON Associates
Adrian Shaw
T: +44 (0)1483 271291
M:+44 (0)797 9900733
E: adrian(at)ikonassociates(dot)com
Simon Parker-Smith
T: +44 (0)7795 323375
E: spsmarketing(at)clara(dot)co(dot)uk
Notes for editors:
1. The Great Eastern Quays Casino bid consortium comprises:
City & Eastern Limited as lead developer plus Notting Hill Housing Group (one of the UK's largest housing associations), Group Partouche (Europe's biggest casino company with over 50 large casinos), Stadium Developments (the developer behind the successful Arsenal stadium development) and ARC (a gaming and resort development specialist).
2. The Gambling Act 2005
At its core, the Gambling Act 2005 was intended to "regenerate" and the benefits of casinos for regeneration were addressed in several papers written by the DCMS. Originally 66 Boroughs put in applications for these large and small licenses based upon/hinging on their need for and ability to create regeneration. The selected Boroughs were those showing more ability to create regeneration and the need for it.
3. Benefits to the Newham community from Great Eastern Quays which were proposed and guaranteed:
1. One off payment of £7.5 million in cash.
2. Guaranteed annual minimum contribution to the Borough of £2m or 5% of gross gaming revenue for next 25 years, whichever is the greater.
3. £250,000 million in cash for education and training annually for next 25 years.
4. £150K in cash for transport (particularly the water bus) annually for next 25 years.
5. At least 25% of the construction jobs to be guaranteed for Newham residents.
6. At least 25% of the total casino jobs to be guaranteed for Newham residents.
7. 1,200 full time jobs in total (excludes non permanent jobs for the construction) in the overall Great Eastern Quays complex.
4. The Great Eastern Quays bid comprises:

A £250 Million project - fully funded with guarantees from two of the UK's most high profile property developers and investors.
A total development area of 116,800 m2. (1,257,000 sq ft).
A 130,000 sq ft casino & entertainment complex: comprising a casino (30,000 sq ft), 2,200 seat multi-purpose venue, bars and restaurants. The casino gaming area represents under 4% of the space of the overall scheme.
A 15,000 sq ft banqueting/conference centre for 750 people.
A 60,000 sq ft, 220 room hotel.
Dedicated TV studios for live broadcast of live events taking place in the venue.
A 50,000 sq ft 100-stall, part open air and part covered riverside public "street" market.
An 8,000 sq ft 120 seat, small community theatre.
720 homes, including 230 affordable units, comprising of one to four bedroom apartments.
Studio/workshops.
Marina facilities – additional mooring and new marina club house.
Road and transport improvements.
River Bus extension to new jetty at Galleons Reach.
Internal water taxi service running services from city airport, canning town and Excel.
Kaskelot historic ("slave") ship to be moored at GEQ as a museum and visitor centre.
5. Benefits to the Newham community from Aspers:
1. An immediate £5million cash payment to the Council,
2. Public opening of the casino in September 2011,
3. Payment to the Council of the higher of 3% of the casino's net gaming revenues or £1million p.a. (CPI indexed),[
4. 'At maturity', employment of up to 440 people in the casino but in any event no less than 330 people by third anniversary of its opening date (Sept 2014),
5. A payment of £100,000 for Good Causes in the Community,
6. A sum of £25,000 to commission a work of art from a resident of Newham and finally
7. £50,000 per annum for 5 years to Newham Workplace to fund its work.
6. Reference numbers for the Grounds for Judicial Review:
City & Eastern - Administrative Court Reference No: CO/3211/2011
Apollo/Genting - Administrative Court Reference No: CO/3792/2011