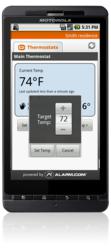 Vienna, VA (PRWEB) May 04, 2011
According to ENERGY STAR, the average annual energy bill for a typical single family home is approximately $2,200, – 58 percent of which is dedicated to heating, cooling and lighting. The good news for homeowners seeking to reduce this significant expense is that a home automation and energy management solution is easier and more convenient than ever to integrate with an interactive home security system. Not only can consumers control lights, locks and thermostats remotely from a computer or smartphone, they can also set up schedules to make their homes smarter and even conserve energy at the same time.
With advanced triggers and rules features, consumers can define custom settings that connect their security system to their locks, lights, and other automation devices. Here are three key ways consumers can utilize their home energy controls and leave planning anxiety behind:
1. See the light
By integrating home automation with a security system, it's simple to manage lights from afar or have a home control the lights itself. Set up custom rules and schedules based on other activity at home like alarms, arming events or sensor activity. For example, when a family member comes home and disarms the security system, the light in the front hallway can be set to turn on automatically adding a layer of security and comfort to the nightly routine of entering a home. Or if activity is detected by motion sensors upstairs, the upstairs lights can be set to turn on automatically as well.
If conserving energy is a priority, consumers can create light schedules based on specific routines such as the bedroom and living room lights turning on when they wake up at 6:30am on weekday mornings and turning off at 8:00am when they head out for the day or leave for work. For additional protection on top of a security system, consumers can automate the lights to turn on and stay on for thirty minutes if a security alarm is triggered.
2. Lock it up
Home automation solutions can also assist in locking and unlocking doors in a home. One useful application is setting a security system to disarm automatically if the front door is unlocked. For extra supervision, a user can customize these settings even further by specifying the applicable times of day and the days of the week. For example, a security system can disarm whenever the front door lock is unlocked between 5:30 p.m. and 8:30 p.m. on weekdays. If you know when a guest or the contractor will be stopping by, set up unique lock codes for them and have the security system disarm only if those specific codes are used to unlock a door. Plus, users can be notified via text message or email of this activity. Finally, for added peace of mind, lock one door lock and have that action trigger the rest of the door locks in a home to lock simultaneously.
3. Know what's cool
Do you know what's cool? Integrating not just lights and locks into security system settings, but also thermostats. What's really cool is that with just one click to arm the security system from an iPhone, Android or BlackBerry device, all the lights in a home can turn off, the thermostat can cool the house down, and all the doors can lock. Just like that – 1, 2, 3, 4 steps in one click.
Versatile home automation schedules and powerful security rules can do more than make life easy; they can help you stay secure and stay connected while running a home more efficiently and simplifying daily routines. While out and about choosing your day-to-day activities, the home will be busy making automated choices of its own. Smarter energy decisions and convenient, customizable control of lights, locks and thermostats are within reach.
Choose a home automation solution integrated with an intelligent security system today. To learn more, visit http://www.alarm.com.
About Alarm.com
Alarm.com, founded in 2000, is the industry leading technology provider of interactive security solutions. Through advanced wireless monitoring, mobile, web-based services, and a proven hosted services platform, Alarm.com helps protect hundreds of thousands of residential and commercial customers throughout the United States and Canada. Alarm.com's products and services are offered exclusively through a network of over 2,000 licensed and authorized Security Dealers. Alarm.com's headquarters is located in Vienna, VA. For more information, visit http://www.alarm.com.
# # #