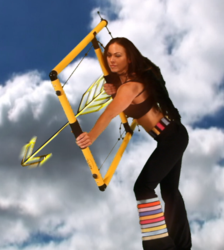 William Shatner: I need that for my back. What a great invention
Saint Paul, MN (PRWEB) May 12, 2011
A dangerous sexy angel, an exploding man, a child's hilarious 911 call, a jealous girlfriend, slapstick comedy, and a horrible birthday surprise for a chubby dad are scenes from this hilarious, rapid fire, avalanche of an ad. In an instant it dramatically weaves a tale of fitness failure, redemption and dramatic transformation. All this to launch a new USA manufactured fitness phenom.
"We were told humor won't work for fitness. The industry seems to dictate the use of hard and oily spokesmodels accompanied by fake testimonials. We rebelled. We use normal people, who look like America. The Kefty is light hearted, new and fun. We wanted to capture that spirit. As proof, the Google Attention Meter for this video is blood red all the way through. That's incredible. People can't take their eyes off of it."
When William Shatner tried out the Kefty at the GBK Oscar gifting event, he said, "I need that for my back. What a great invention!" He took one home. Similarly, at the 2011 NBA Allstar Party, Snoop Dogg tried the Kefty, liked it, and took home four. The Dogg video is on youtube.
Kefty is a 4.4 pound fitness wonder made of high impact polymers and finalist in this year's International Design Awards. Patented, it employs unique two-way, solid rubber 40lb tensioners to create over one thousand exercises. It invites its users to have fun moving their bodies. Hundreds of "Kefty Motions" or "Kefty Moves" can be done at one's own pace-- while watching TV or sitting at a computer. Choosing not to be called a device, machine or equipment, Kefty is an "energizer."
In addition to the fun factor, the efficiency, versatility and privacy of using the Kefty is astounding. Three times faster than going from machine to machine in a fitness club, one Kefty replaces 95% of all traditional workout machines. Usually, in the time it takes to drive to and from the gym, Kefty Time is complete--in the comfort of one's own home!
It is also perfect for travelers who do not like to use exercise facilities in hotels. Because of its size and portability (it dis-assembles in under 60 seconds), it goes wherever--to any room in the house to the backyard to a favorite travel destination. When Kefty says it goes anywhere, it means it--it was selected by the Mars Institute for use in Summer 2011 onboard concept rovers for future human Moon and Mars exploration operated by the Haughton-Mars Project on Devon Island, in the High Arctic.
Kefty movements fill users with new-found energy and vitality--with little effort on their part. Kefty lets people forgive themselves for what they have not done in the areas of fitness and nutrition. They are using the Kefty as a new beginning for living happier, more vital lives--feeling better on all levels.
Kefty.com inventor Nick Musachio is committed to improving the shape of our nation--and chose laughter as a means to get his message out: It's fun. It's easy. It's Kefty.
###