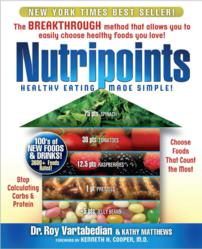 Consumers today want an easy way to find the healthiest foods to eat without being a scientist or reading detailed labels. Overall nutrition scores in one glance tell them where foods fall on a scale of excellent to poor.
Carlsbad, CA (PRWEB) May 16, 2011
Celebrating its 21st anniversary, Nutripoints™ is the first and longest-running overall food nutrition rating system, used since 1990 in 13 countries worldwide (http://www.nutripoints.com). It is the most comprehensive--rating foods for their overall nutritional value with one score--and also incorporating a simple healthy eating program. It is based on providing knowledge and power to the consumer, and is not funded or supported by food manufacturers or distributors.
Today, health-conscious consumers have many tools at their disposal to help them figure out which are the healthiest foods to eat. Food labels have traditionally been the best source of information to guide consumers in determining the quantities of helpful and harmful ingredients in foods, but have left many—except for the most sophisticated of shoppers—yet still confused about making the best food choices.
To make this process easier, a number of new food rating systems have recently been developed by consumer activist groups, universities, health professionals, food manufacturers, and grocery stores. These systems range from awarding a certain number of "stars" to foods, to providing a complex numbering system rating tens of thousands of foods.
Among these systems stands a food rating system which has been proven and tested by time. Developed in 1985, and released to the general public in 1990, "Nutripoints: Healthy Eating Made Simple" is the first food rating system developed and used on a large scale worldwide.
Nutripoints is based on a point system developed by Dr. Roy Vartabedian (http://nutripoints.com/bio.html) and first extensively used at the world-famous Cooper Clinic in Dallas, Texas. Each food is computer analyzed for 26 key nutrients and given an overall "nutripoint" score generally from 0-100. The system is set up so that the higher the Nutripoint score, the better the food for overall health.
Additionally, when users select foods in recommended amounts from 6 different food groups to achieve at least 100 total Nutripoints per day, their diet automatically provides at least 100% of the recommended daily amounts of key nutrients and avoids exceeding the recommended daily limits of harmful ingredients in the diet. Using this system, those with little knowledge in nutrition can meet or exceed the recommendations of the American Heart Association, the American Cancer Society, and the American Dietetic Association, all at the same time.
Based on nutrient density, Nutripoints identifies foods with the most nutrition and the least calories. At the end of the day, individuals can pack in the most nutrition in the least number of calories eaten, thus eliminating "empty calorie" foods which drain nutrients from the body and can lead to poor health. The flip side is that nutrient-dense foods increase available nutrients to the body at the cellular level, providing energy, and sustaining peak physical performance.
Results from using the system include increased energy and exercise treadmill test times, and reduction in serum cholesterol, blood pressure, glucose, triglycerides, and % body fat.
For more details on the system and how it works, go to: http://www.Nutripoints.com.
Our goal at Vartabedian & Associates/Designs for Wellness is to help individuals reach their personal health potential through improved lifestyle choices. We assist those who desire to make better choices now to prevent health problems in the future, as illustrated by the quote: "If your lifestyle does not control your body—eventually your body will control your lifestyle...the choice is yours!" Ern Baxter, Author, "I Almost Died."
###