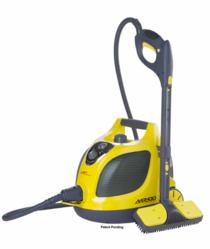 Since the conception of Vapamore we have been paying close attention to what our customers have been saying
Scottsdale, AZ (PRWEB) May 02, 2011
Vapamore, a leading manufacturer of steam cleaning products industry announces the release of a new consumer based steam cleaning product, the MR-100 PRIMO Steam Cleaning System.
After nine years in the commercial steamer industry the Vapamore brand has quickly gained ground as the product of choice in the residential steam cleaning industry since the release of their flag ship MR-100 series residential steam cleaning system. The new MR-100 PRIMO model is built around consumer input collected from over the last two years. With the Primo's vast improvements it will exceed the expectations of any steam cleaner in its class.
"Since the conception of Vapamore we have been paying close attention to what our customers have been saying. The new Primo steam cleaner is a complete redesign of our previous flagship steam cleaning product. We have added a slew of new features and upgrades, as well as a Lifetime Warranty," said Randy Marchetti, Vapamore President and CEO. "Although the manufacturing costs are higher, we purposely have kept the retail price the same. We understand in these difficult economic times customer want to be assured they are purchasing the right product, as well as a high level of service."
The company's customer centric approach is nothing new, but is becoming seldom seen these days. With all the overseas outsourcing, consumers are becoming more and more frustrated by the lack of customer and product support.
"Vapamore's foundation is based on the quality of service that we provide to our customers" says Marchetti. "Most manufactures of similar products provide only limited coverage and poor service. Some of the manufacturers do not even make the replacement parts and accessories needed which classifies them as a 'throw a way' machine."
"Our industry is becoming increasingly competitive to the point where our products have been cloned or copied and sold for a reduced price. We have actually been approached by the customers who have purchased the copied models, inquiring if we can service these products. We have taken the appropriate measures with the new PRIMO model by way of US patent and trademark protection to ensure potential customers they are buying a true Vapamore product."
The term "Caveat emptor" or, "buyer beware" has never been more relevant than it is today. Vapamore is one company that is making way with its biggest resource, the consumer. They advise researching a product before purchasing a product and understand the level of service associated with a purchase.
Vapamore is the leader in the home steam cleaning industry. They manufacture innovative cleaning products that are designed and tested for usability and longevity. Vapamore ensures that their products meet consumer needs through a rigorous customer based product development process. To learn more about Vapamore, visit http://www.vapamore.com.
# # #