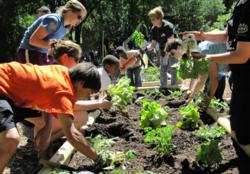 Children will try vegetables they are unfamiliar with if they planted them with their own hands
(PRWEB) May 04, 2011
(PRWEB) April 27, 2011 -- Camp Shane, the longest-running weight-loss camp for children and teens in the country based in the beautiful Catskill Mountains of New York, has announced plans to establish a kitchen garden, planted and tended by the younger campers. When harvested, the produce will be used in cooking class and served in the camp's dining hall.
Though the garden will be planned by adults (and the soil initially turned by staff), the children, ages 7 to 12, will do all the planting. Soil will be augmented by the addition of compost from the camp's newly-established compost pile (making use of the scraps and refuse of the camp's more than 400 campers who attend any or all of the camp's nine-week summer session) teaching all the campers about agricultural recycling. The plants themselves (locally sourced from nurseries nearby) will be put in the ground by the young campers, under the watchful eye of Master Gardener Simon Greenwood, Director of Camp Shane.
"I was inspired by Chef Jamie Oliver and his mission to fight obesity and I am excited to share his vision with our campers," says Greenwood.
The plants to be harvested by summer's end include tomatoes, crookneck and zucchini squash, bush beans, cucumbers, red and green peppers, and even vegetables less known to the young gardeners, like eggplant and okra.
"Children will try vegetables they are unfamiliar with if they planted them with their own hands," says Ziporah Janowski, co-founder of Camp Shane. "Getting them to taste new things is the key since (as every adult gardener knows), vegetables ripened by the sun and fresh from the garden taste unlike any of the vegetables you get in the store. Once they try new nutritious-yet-delicious foods, they are on their way to a lifetime of healthier eating."
Also inspired by First Lady Michelle Obama's Kitchen Garden, part of her Let's Move initiative to combat childhood obesity, the staff at Camp Shane will use their new kitchen garden not only to get the campers moving (hoeing and weeding are good exercise), but to teach them about the role of nutrition in weight loss. They will even tie planting, tending, and harvesting the garden into simple cooking lessons complete with recipes that the campers can share with their families when they return home and continue their healthy lifestyle.
"Our young gardeners will not only be getting educated about where our food comes from and why fresh produce is good for them," says Janowski, "but they will sow the seeds needed for healthy habits when they leave."
Camp Shane hosts campers ages 7 to 25 for their program, which includes a complete nutrition and weight loss program with entertaining exercises, delicious and healthy meals, exciting activities like zip-lining, swimming, hiking, and dance classes, fitness experts, motivational speakers and more -- all in a breathtaking 120-acre setting. Summer session starts June 22 and more information can be obtained by visiting http://www.campshane.com, by calling 914-271-4141, or via email at office@campshane.com.
# # #