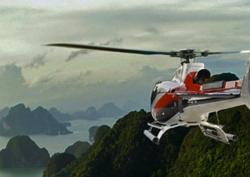 The bird's-eye view from a chopper offers a thrilling complement to terra firma touring
(PRWEB) May 29, 2011
One of the most exciting additions to any ultra-luxe Asia itinerary is a helicopter jaunt, one of the signature touches to bespoke holidays with Remote Lands. "The bird's-eye view from a chopper offers a thrilling complement to terra firma touring," said Catherine Heald, Remote Lands' co-founder and CEO, "whether it's a new appreciation of the man-made wonders of Angkor or the natural splendors of Phuket's turquoise waters and dramatic karst formations."
As a mode of transit, helicopters can shave hours off arduous drives and open up remote destinations that are otherwise inaccessible or often bypassed (think the rugged beauty of Sapa, Vietnam or the verdant tea country of Sri Lanka). And they also allow day trips where you can return to your hotel of choice rather than overnighting in lesser accommodation.
Discover ancient Thailand with day trips from Bangkok to Ayutthaya and Sukhothai, or head to Kanchanaburi to pet tiger cubs and see original trusses of the Bridge on the River Kwai. In Vietnam, you can chopper to Sapa, avoiding a round-trip overnight train, or hop to Mai Chau for stunning rice terraces and remote hill-tribe villages, both easily reached from Hanoi. In Cambodia, besides the delight of Angkor-from-above, off-the-beaten path locales like Battambang and the Cardamom mountains, as well as resurgent coastal towns like Kep, bring much greater variety to itineraries.
If summiting one of Asia's "eight thousanders" – peaks topping 8,000 meters or more than 26,000 feet – isn't in your immediate future, don't despair. You can still get a thrill up close to where the heavens meet the Earth in a helicopter charter around mighty Everest or the imposing Annapurnas. From Nepal's Kathmandu airport, your flight path around Everest includes unmatched views of four other 8,000-ers and four more Himalayan peaks breaking 23,000 feet, while departing from Pokhara takes you along the 34-mile Annapurna massif, including Machapuchare, a sacred, unclimbed peak whose jagged outline has earned it the nickname "the Matterhorn of Nepal."
While India's Taj Mahal is a must-see in every traveler's life, the five-hour drive from Delhi to Agra is somewhat less enticing. A helicopter turns the half-day drive into a 45-minute jaunt, allowing you to experience this masterpiece in a more leisurely manner. From Mumbai, zip to the awesome Ajanta and Ellora caves, UNESCO World Heritage Sites in Maharashtra that are often, and unjustly, overlooked. In Sri Lanka, meanwhile, a chopper is a no-brainer for getting from the exquisite coastal areas to the lush interior mountains and jungles, or vice versa, allowing you to fully experience the island's incredible diversity and drastically slash drive times.
Picture one country the size of Western Europe but with only a tiny fraction of its commercial airports. Welcome to Mongolia! With chopper charters, however, you can shrug off this relative lack of infrastructure and roam free in this vast country of superb beauty, warm people and active adventures. From sand-dune camel rides in the southern Gobi, to fly fishing for giant taimen in the Onon River up north, to enormous Lake Khovsgol, the "dark blue pearl," Mongolia has too much for active travelers to miss. Almost all commercial flights connect in the capital, Ulaanbaatar, so charters make for the most efficient routing.
To fully experience Bali one must get beyond the bottleneck of Denpasar and see the farther reaches of Indonesia's beautiful countryside, a plan for which nothing is better suited than a helicopter. Climb to 11,000 feet for a bird's-eye peak into the crater of sacred Mt. Agung and over Pura Besakih, the island's holiest Hindu temple, then cruise over lush rice terraces, out over the Bali sea and along the Manggis coastline. Add a fixed-wing charter for must-sees on two other islands: the natural wonders of Komodo National Park, including its eponymous dragons, and the spectacular 9th-century Buddhist monument Borobudur on Java.
Other locales where Remote Lands offers helicopter flights include the Philippines (cruise to Banaue's astonishing 2,000-year-old rice terraces carved into mountains, covering 4,000 square miles at an elevation of 5,000 feet); Hong Kong (circle Victoria Peak and Harbour before darting to Macau for the day) and Japan (soar above ultra-modern Tokyo, then "flightsee" around iconic Mt. Fuji).
###