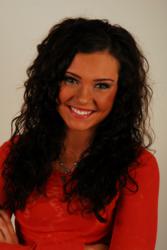 I hope this song helps send the message that bullying affects everyone and it really matters what we do.
Newcastle, Okla. (PRWEB) May 05, 2011
When Kylie Morgan first heard about the tragic suicide of Irish-born, South Hadley, Mass., teenager, Phoebe Prince, she reacted in the best way she knew how – she picked up her guitar and started composing a song. For the 15-year-old singer/songwriter from Newcastle, Okla., it was a natural reaction and she hopes her song, "Phoebe" will send a message of support and compassion to those suffering the abuse of bullying as well as a call to action for those witnessing it to reach out and "be a friend."
Veteran songwriter, Liz Hengber who co-wrote the song along with Morgan and country music singer/songwriter, Rob Crosby, said the song happened almost by accident. "It wasn't as if we came together to write a song about Phoebe or bullying," said Hengber. "Phoebe's story was all over the news. We were talking about how tragic it was and I was interested in Kylie's perspective because she was so close to Phoebe's age. And then someone said, 'man, people really need to understand how much what they do matters,' and from there, the song took on a life of its own."
Morgan recorded the song with the support of her label, Land Run Records (http://www.landrunrecords.com), at a Nashville studio in late 2010 as part of her upcoming release. She has also included it as one of the songs performed at live events. And, she says, it still has an amazing effect on her every time she sings it. "It's as if the song has a life and energy of its own. Even though we didn't know Phoebe personally, the song sort of creates a connection. I like to believe that she's somehow heard the song and knows that people do care."
"I have to admit that, when we wrote the song, I wasn't aware of how much of an epidemic bullying really is. I was just mostly struck by how tragic and unnecessary Phoebe's suicide was," said Morgan. "But as I've learned since, bullying really is a serious problem that can lead to long-term depression, anxiety and it can even cause serious health issues. What's more, bullying doesn't only affect those who are bullied," she said.
Referencing Pacer's National Bullying Prevention Center website (http://www.pacer.org/bullying), Morgan says she's learned that bullying has a negative impact on everyone involved – those who are bullied as well as those who perpetrate it. "Kids who bully are found to abuse drugs and alcohol more often and frequently engage in aggressive behavior beyond bullying," she said. "Bullying is really a cry for help. And, it can even have a negative effect on those who witness it. They don't have to participate to suffer from it," Morgan said. "It's just really so important that each of us understands, as the song says, "that it matters what we do." If this song inspires even one person to take action to prevent bullying, I'll feel grateful for the contribution I've been able to make."
To further support the movement to prevent bullying, Morgan is giving away free downloads of the "Phoebe" ringtone. She has also initiated a series of personal appearances at schools, festivals and community organizations where she performs and talks about the importance of taking action to end bullying. A page on her website, KylieMorgan.com, is dedicated to providing links, support and information about bullying. A portion of the proceeds will be donated to the bullying prevention movement.
About Land Run Records
Land Run Records, founded in 2009 by entrepreneur Eddie Grant, is an artist oriented label.  Grant and music industry leader Jack Joseph Puig, co-CEOs, encourage young talent to follow their dreams by providing a secure and nurturing environment in the music industry. Justin Grant is president. The label operates on the belief than anything is possible through honesty, integrity and hard work.
###