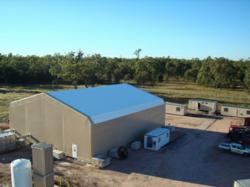 (PRWEB) May 02, 2011
Sanford, ME- Rubb Inc.- A manufacturer of relocatable structures, recently discovered that their order #07115 became a "frequent flyer," serving three separate locations around the world in support of CH2MHILL- a long term customer of Rubb.
On October 15, 2007, Rubb order #07115 started out like any other project: sign a contract, get drawings approved, engineer and fabricate the structure, ship it out. Little did they know that this particular 70' by 83' BVE with I-beam foundation, various doors and a simple electrical system would be relocated in a period of just over four years, to Wahiawa, Hawaii; Aberdeen, Maryland and now to Columboola, Australia.
Relocatability is one of many important attributes of Rubb's frame supported membrane structures. Clients often have similar needs at various sites and instead of purchasing multiple buildings for short term use, it makes economic sense to purchase one structure that will eventually be used at several locations. Rubb's modular design makes the structures easily relocated with minimal loss of materials and efficiently packed into standard ISO containers for shipment. Additionally, Rubb structures are built to accept up to 3% differential settlement and are very forgiving on less than perfect sites.
In addition to the flexibility of the products, Rubb's team of experienced field technicians will travel to sites around the globe in support of their customers. These professionals are not only trained in the safe assembly of the structures, they are also experts in the field with the customer's labor force to get the job done right the first time.
With over 21,231 miles (34,168 km) of shipping miles behind the structure, the original frame is still going strong. All structural bolts have been replaced each time, standard practice each time a structure is moved, and the building is sporting a new membrane of PVC fabric.
Who knows where this globe trotter will land next!
The Rubb organization, with production facilities in the United States, Great Britain, and Norway, is recognized as a world leader in the design, development, and manufacturer of relocatable structures.