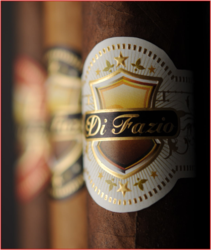 (PRWEB) May 01, 2011
(PRWEB) May 1, 2011 -- After two years of observing and assisting the development of DI FAZIO cigars, PULIDSIR INVESTMENTS was created to distribute these great cigars to the most important cigar stores principally in the US.
Hand Made in Honduras by "Raices Cubanas" these cigars in their three ligas: Conneticut, Maduro and Picoso offer a unique and interesting experience to all cigar lovers. Experienced Connoseuirs like Cigar Snob and Tobacconist, have rated the cigars 90-92/100.
Backed by a media blitz supported by advertising in many Magazines, social networking, public relations, tasting events in Premium venues and the award winning designer internet site http://www.difaziocigars.com , PULIDSIR strives to increase consumer awareness of the DI FAZIO Brand and grow the category in general, strengthen sales of the stores.
PULIDSIR proudly distributes an exceptional line of Premium cigars that remains faithful to the diversity of origins; with a combination of the best features of the tobacco leaves from Honduras, Nicaragua and the Dominican Republic, with an accumulated knowledge inherited by generations with a taste for exquisiteness and daring. A new, unique and different product never tasted before was born from this magical fusion.
PULIDSIR has added to its ranks talented people with vast experience in marketing and operations that aided by a high quality product will definetely start generating some noise in the business. PULIDSIR is getting ready to the IPCPR in Las Vegas this coming July where they will have a DI FAZIO stand between the most reckon brands in the world.
# # #