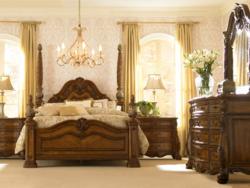 Atlanta, GA (PRWEB) May 02, 2011
A year before the first Coca-Cola® was sold, Havertys Furniture made its debut. James Joseph (J.J.) Haverty, the son of an Irish immigrant, opened a small store in downtown Atlanta with the simple idea of offering customers quality furniture, good values and friendly service. Now 126 years later, nothing less is expected from the Havertys brand.
To celebrate its 126th anniversary, Havertys paid tribute to the life and vision of its founder by creating the Villa Clare collection. Named after J.J. Havery's Atlanta home built on Peachtree Street in 1916, this collection captures the home's style and grandeur with hand-carved details, marble accents, curved fronts and fine craftsmanship. Book-matched ash burl and pecan veneers are aged with an multi-step brown finish to give each piece a historic presence.
Now available in stores and online at havertys.com, the featured item of this master bedroom collection is a poster bed that comes with removable posts and two sets of finials to provide more style options. A matching armoire, dresser with mirror, chest and nightstand are also available.
For a limited time, a copy of "Villa Clare: The Purposeful Life and Timeless Art Collection of J.J. Haverty" by William Rawson Smith is included with the purchase of any piece of the Villa Clare collection. This book provides an engaging history of early Atlanta as it tells the story of J.J. Haverty and his contributions to the arts.
About HAVERTYS
Haverty Furniture Companies, Inc is a full-service furniture store, providing customers with a large variety of quality furniture and home accessories. The selection includes living room furniture, dining room furniture, bedroom furniture, home office furniture, media room furniture, youth bedroom furniture, mattress sets, lamps and rugs. In the past 126 years, Havertys has expanded throughout the South and Midwest with more than 100 showrooms in 17 states. Additional information is available on the company's website, havertys.com.
# # #