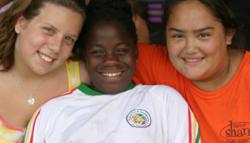 (PRWEB) May 01, 2011
Contestants have only one month left in which to enter "The Biggest Winner" Contest sponsored by Camp Shane, the longest-running child and teen weight loss camp in the country. Ten winners will be chosen from hundreds of overweight kids and teens (ages 10-17) who have written essays or submitted videos to try and win a free three-week stay at Camp Shane in the beautiful Catskill Mountains during the August 2011 session. The prize is valued at $3,600.
The 800 words (or less) essays or videos must be on the topic of why the child/teen wants to lose weight and get fit, and what they plan to do with the healthier future that a summer stay at Camp Shane can help them achieve. The contest closes on June 1, 2001 and shortly thereafter, a panel of nutritional and fitness experts will judge the essays and videos and choose the winner based on financial need, clarity, creativity, and the compelling tale they tell.
"We are delighted to offer this chance to kids and teens who truly want to lose weight, get healthy, and face their future with pride by being the best they can be. Our counselors, fitness gurus, and nutrition experts will give them the tools they need to change their lives," says David Ettenberg, co-founder of the camp. "Camp Shane is not a 'fat camp', but a place where kids learn how to eat, exercise through enjoyable activities, and get into the best shapes of their lives --while having more fun than they've ever had and gaining the confidence that comes with taking charge of their own bodies. "
For complete rules,regulations and restrictions, look for "The Biggest Winner Contest" at http://www.campshane.com, call (914) 271-4141 or email office@campshane.com