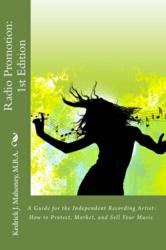 (PRWEB) May 02, 2011
(PRWEB) May 2, 2011 -- Major labels and music mogul control, coupled with expensive music production costs, have heightened competition for recording artists, while exerting downward pressure on music industry opportunities. These factors are causing many musicians and artists to give up on music careers, but they're understandably concerned about wasting their investment in their training and experience. That concern should be dispelled by "Radio Promotion: 1st Edition-A Guide for the Independent Recording Artist: How to Protect, Market, and Sell Your Music" (Createspace Publishing - https://www.createspace.com/3561139), which demonstrates that music recording artists at all levels can leverage their talent and experience to create their own empire, while building wealth and generating career security in music.
Kedrick J. Mahoney, the author, is a career professional formerly with Stream Gas and Electric, Fairfield Resorts, BellSouth, and currently with Southern Bay Records and Mahoney Music Promotions whose business background – in information technology, sales & marketing, management, music, vocal performance, and strategic planning-enabled him to generate the music literature he describes. While most music campaign options aren't usually though of as beneficial, strategic planning & implementation is a key qualification for success in each.
For example:
*An individual's knowledge of best practices in music copyrighting would be a strong asset in music legalities.
*A singer-songwriter who implements proper music publishing would become financial stronger if their song becomes popular.
*A music promoter would bring value and cut costs if they are knowledgeable on specifics radio stations looking to play new music.
*A recording artist who establishes their own career success could remain flexible and obtain full control of their career by staying clear of major recording deals and middlemen.
Most music recording artists know their strongest attributes and qualities. Some may need a little help and motivation to realize their worth which is the purpose of this literature. Many unknown artists produce wonderful musical works that never get heard or recognized within the music industry. With the right guidance, these works can actually become new revenue streams for musicians and recording artists.
As Mahoney describes each strategy and task, readers will cover:
*Music Copyright Instructions
*Music Publishing Benefits
*Songwriting and Demo Production Guidance
*Who to Market Music To
*Getting Paid Music Royalties
*Properly Mailing Demo Packages
*450+ Radio Station Listings Looking to Play New Music (listings as such commonly range from $200.00 and up in value)
Readers will learn how to get a radio promotion campaign started for their next release with the help of our guide. They will begin building their own personalized radio promotion campaign and learn additional helpful, promotion tips.
While there are many books and companies providing music promotion advice, Mahoney's gives a new - and much more independent - meaning to the term "music promotion," demonstration that a recording artist's unique talent and knowledge constitutes value in a competitive music industry.
# # #