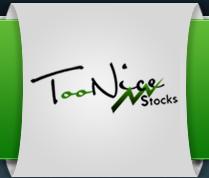 With IntelGenx Corporation seemingly back on track, will SmallCap investor sentiment continue to change as well? Remember this is the market, anything can happen.
New York, NY (PRWEB) May 16, 2011
TooNiceStocks presents its analysis on IntelGenx Corporation and its lead product CPI-300 with indications for MDD, major depressive disorder. Since the complete response letter from the FDA in February of 2010 for CPI-300, IntelGenx has been an afterthought in the biotech community. However, with the recent events and a new drug application imminent, TooNiceStocks believes IntelGenx might be back on SmallCap & Microcap Investor's radars once again.
Digging Deeper into the troubled past and potential of pipeline.
TooNiceStocks research uncovered in November of 2007, IntelGenx and Cary Pharmaceuticals entered into an agreement to jointly develop and commercialize CPI-300 for MDD using IntelGenx's multi-layer oral delivery system. In May of 2010, about 3 months after the team received the complete response letter from the FDA saying it couldn't approve the drug without changes, IntelGenx acquired full rights to CPI-300 back from Cary. Cary would still receive 10% of sales royalties and 3% of upfront payments if a distribution agreement contracted in the future. This left IntelGenx with nobody to shoulder some of the costs associated with the regulatory process, and it also left them on their own to deal with litigation issues regarding a possible patent infringement by Cary on the product.
IntelGenx's novel delivery system, termed "Versa Tab", for CPI-300 is a high dosage sustained release and multi-layer oral pill designed to control release its active ingredient, bupropion hydrochloride. Bupropion, currently marketed as Wellbutrin, is an FDA approved drug for MDD. TooNiceStocks research found recent statistics indicate that 10% of men and 20% of women suffer from some degree of MDD, a potential large market for drugs treating the disorder. With bupropion FDA approval already established, CPI-300 approval would come via a 505(b)(2) NDA route, which is a protocol to allow a faster and cheaper approval of a drug that in this case is for the same indication but via a different type of dosage (slow release multi-layer) and with fewer pills to swallow to achieve the same higher dosage required for some patients.
TooNiceStocks does acknowledge that IntelGenx has a long road ahead of it with regard to approval since CPI-300 has already received a complete response letter, or CRL, from the FDA. IntelGenx announced that it met with the FDA pertaining to the CRL in June of 2010 and stated that there were two main issues to be resolved, the manufacturing site qualification and a previously observed "food effect" of the drug taken with food versus on an empty stomach only. The latter issue, according to TooNiceStocks research, will likely be taken care of via a product relabeling to take on an empty stomach only and a post-approval educational effort. The qualification of the site the drug will be manufactured at was an issue that IntelGenx was already well aware of and had mentioned in a January 2010 press release before the CRL. In that PR they noted that they were already in the process of acquiring data to support an amendment to the NDA for a new CMO, contract manufacturing organization.
TooNiceStocks has discovered that ever since the litigation was thrown out earlier this year, the company's stock price has not only trended upward, but that the daily volume of the stock has increased as well. With a bullish chart, a favorable outcome for IntelGenx with regard to the litigation, investors will be keying into the company and its potential in the near term. TooNiceStocks in house biotech expert states, "as the CEO indicated in the February 3rd press release, the company is actively looking for partners in the potential commercialization of CPI-300. A partnership to shoulder the costs of the NDA submission, marketing and manufacturing of the drug would certainly help boost a company looking to commercialize its first product." TooNiceStocks acknowledges the potential risks associated with IntelGenx and notes that another CRL, outright rejection, or lack of a partner would all negatively impact the company. IntelGenx does have other products in its pipeline, however a commercialization of any of these is at best early 2012 but most likely in the second half of 2012.
TooNiceStocks noticed in the company's latest news release on May 11, 2011, a comment in which Horst G. Zerbe, President and CEO of IntelGenx stated in regard to the afore-mentioned litigation being thrown out that, "the dismissal of the litigation allowed us to make significant advances in partnership discussions for CPI-300, and we are finalizing our response to address FDA's questions from the Complete Response Letter, which we plan to submit to the Agency by next week. At the same time we have continued to make substantial progress with our VersaFilm technology and have, in the past few months, successfully completed pilot studies for anti-psychotic and insomnia products." TooNiceStocks in house biotech expert finishes off stating, "with IntelGenx Corporation seemingly back on track, will SmallCap & Microcap investor sentiment continue to change as well? Remember this is the market, anything can happen."
http://www.TooNiceStocks.com
"Finding Value in the Undervalued"
About TooNiceStocks.com - Sign up now for free weekly technical and research reports. We work hard in researching promising companies in all exchanges. Please add or follow us for daily chatter. Join our premier membership now. Real Research for Real Investors.
TooNiceStocks.com in no way has been compensated for advertising, marketing or profiling Intelgenx Corporation, rather we have initiated our own independent research. The data stated in our research article is derived from publicly disseminated information and are solely our opinions only. None of the profiles issued by TooNiceStocks.com, constitutes a recommendation for any investor to purchase or sell any particular security or that any security is suitable for any investor as these are our opinions. Any investor should determine whether a particular security is suitable based on the investor's objectives, other securities holdings, financial situation needs, and tax status. Examples presented on TooNiceStock.com website are for educational purposes only. Such set-ups are not solicitations of any order to buy or sell. Accordingly, you should not rely solely on the Information in making any investment. Rather, you should use the Information only as a starting point for doing additional independent research in order to allow you to form your own opinion regarding investments. Please note well that TooNiceStocks.com employees are not Registered as an Investment Advisor in any jurisdiction whatsoever. For full disclaimer, please visit http://www.TooNiceStocks.com.
###