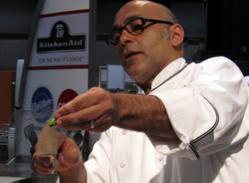 Enjoying a good meal doesn't have to be a complex, mind-numbing series of steps... It doesn't have to take hours and fortunes to deliver a meal you can be proud.
Milwaukee, WI (PRWEB) May 11, 2011
Everyday precious moments become missed opportunities to bring people together and families back to the table. "We have become ritual feeders; some have become bottom-feeders because they refuse to understand that we are what we eat," explains Chef Feker. Mealtime — once the centerpiece of family and friendship — has become an exercise in futility; even an inconvenience. Many people feel that they just don't have time to cook a healthy, flavorful meal. Chef Michael Feker "will prove you wrong."
Feker's Kitchen, a new, one-of-a-kind cooking show, serves as a stage where Feker can share his knowledge and love for food with the viewing public on a weekly basis. Performing live on FOX 6's Weekend Wake Up, Feker shall make cooking accessible to everyone by explaining the unknowns and teaching the fundamentals of cooking. Having learned from some of the best talent around, Chef Feker himself was occasionally steered down a path where instructors were more impressed with themselves than the idea of creating culinary ambassadors. Feker realized that "instead of hording proprietary recipes, ingredients and dazzling restaurant goers and viewers with a complicated signature and fare, I shall leave the sophistication behind, and focus on simple yet flavorful dishes that the general public—as well as foodie sophisticates—could understand, and therefore appreciate more."
Chef Michael Feker, owner and executive chef at IL MITO Trattoria e Enoteca, stands in a kitchen contemplating the properties of pasta. He is often asked why his penne is so flavorful and is determined to give a rationale that is easy to understand. After carefully considering his answer he puts down his recipe book and realizes his purpose — inspiration comes from understanding, which cannot possibly happen from reading a recipe that says to cook the noodles for eight minutes or until tender. It comes from understanding and appreciating why and when to add the salt to the water, why you sear protein and why you always spread garlic on your bruschetta. In other words, it's about learning why, not how.
The result is a chef whose award-winning restaurant, school and every initiative now serve his mission to inspire those he has the privilege of cooking for to slow down, take a seat, and by all means, "appreciate what's in front of you." Feker believes that "enjoying a good meal doesn't have to be a complex, mind-numbing series of steps and approximations. It doesn't have to take hours and fortunes to deliver a meal you can be proud of and feel good about eating, as much as a simple understanding of the basics."
Dine with him, and he or his staff will take the time to romantically explain how each dish is prepared, why, and then deliver that experience with every bite. If you are taking his class, he will leave focus on the fundamentals, textures and consistency— leaving his guests inspired to create on their own, with no restrictions or mandates.
About IL MITO Enoteca
Recently named one of the top 50 best Italian restaurants in the for the second year in a row, Feker explains, "the Cuisine of an Enoteca is the simplest of Italian cuisines, made with the freshest, highest-quality ingredients that create amazing, complex rustic flavor combinations." Lunches served Tuesday-Saturday, 11 am to 2 pm; Brunch served Sundays from 10 am to 2 pm; Dinner served Tuesday-Sunday starting at 5 pm.
Reservations can be made on line at: http://www.ilmito.com, or by calling 414-443-1414.
# # #