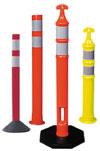 Traffic control supply sale gives customers 20% off traffic drums, delineator posts, road reflectors, and pavement marking stencils.
Wake Forest, NC (PRWEB) May 04, 2011
In its continuing efforts to improve the organization, efficiency, and safety of industrial facilities and parking lots, Stop-Painting.com has recently introduced two new product lines for traffic marking usage.
The first product line includes various makes of traffic barrel, a durable drum and base combination device that is best known for its use in road construction. The drum features two flag mount holes and a durable reflective build, as well as an enlarged arch carry handle for easy transport by workers. The drum surface is rounded to prevent the accumulation of rocks and other potentially harmful debris on it, and constructed to meet standard government and industry safety specifications. The molded rubber base ensures stability by actually adhering to the floor, making it more difficult to knock over or push out of position.
The second product line is for traffic delineator posts of varying sizes and features. Long associated with traffic management on busy roads, these slender but tough reflective posts have more recently proven their worth indoors as well. Aside from serving as capable floor markers and boundaries to divide areas or sections, delineator posts are also utilized as placeholders for important equipment, or to line a walkway for the relative safety of workers on foot. Outside an industrial facility, they can be used to mark docking areas or parking for employee and visitor vehicles. They are designed to snap back into place after being run over, which makes them ideal in the face of forklifts, delivery trucks and other things that would trample them accidentally.
Stop-painting.com has been an industry leader in the traffic marking arena, bringing items that were typically only available to the commercial sector available for anyone to purchase online. They have catered to a diverse array of customers varying from the largest corporations marking huge industrial facilities to everyday consumers marking their driveways. These items are usually sold by companies who do not sell direct, and only cater to the large orders of commercial contractors. "We thought anyone should be able to buy the same high quality traffic control supplies as the big contractors," says Insite Solutions owner Cliff Lowe. The items can be purchased online by Insite's ecommerce website, Stop-painting.com.
Spring is the best time to repair and maintain parking lots, and many traffic marking projects begin at the start of the warm weather. Many maintenance projects that involve asphalt repair cannot be undertaken when their is a danger of freezing. To ring in the traffic marking season, Stop-painting.com is announcing a Spring Traffic Control Supply Sale. Customers can take advantage of a generous 20 percent discount on selected traffic control items, including the new drums & delineators, as well as their extensive selection of road reflectors and pavement marking stencils. Interested buyers may use the coupon code "trafficcontrol20" to take advantage of the discount, which will be available up to May 31, 2011. It is hoped that the sale promotion will convince owners and operators of industrial facilities to use it as an opportunity to upgrade their existing marker systems, or adopt them in the first place, with materials of superior quality. Discounts on traffic control supplies are rare, and Insite Solutions encourages everyone to take advantage of this offer.
InSite Solutions is a leader in the traffic control supply industry, offering expert solutions for effectively calming traffic both indoors and out. Insite Solutions is the manufacturer of Superior Mark industrial floor marking tape, and also holds a patent for a pavement marking tape. InSite offers its products online at its ecommerce website Stop-painting.com. For more information, visit http://www.stop-painting.com or call 919-569-6765.
###