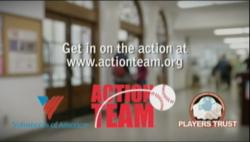 The Action Team program is free and takes some of the burden away from those in charge of a school's service-learning or community service program
Alexandria, VA (PRWEB) May 07, 2011
Volunteers of America and the Major League Baseball Players Trust have teamed up to encourage high school students to get involved in their communities and help those in need. Action Team, a national youth volunteer initiative designed to inspire and train the next generation of volunteers. Each Action Team is composed of Major League baseball players and area high school students who are led by their Team Captains.
As a result of the Action Teams' efforts, thousands of high school students around the country are learning first-hand that they don't have to be celebrities to make a difference where they live. Action Team Captains throughout the country plan community service activities and help spread the message about the importance of volunteer work.
Launched in Denver, Colo. in 2003, the Action Team program now enjoys the support of more than 160 high schools in 34 states and Puerto Rico. To date, the Action Team has inspired more than 26,000 high school students to help more than 111,000 people in need. During the 2010-2011 school year more than 800 Action Team Captains have planned more than 400 volunteer projects in their communities.
Action Team members recruit fellow high school students to volunteer in projects developed by the Action Team to make an impact and/or address a need in the community. The Action Team members' goal is to help others — whether it's out in the community or inside the classroom.
Service projects vary in each school but may include: sorting and distributing new books to low-income children, reading to children and assisting teachers in day care and Head Start programs, serving meals at homeless shelters and senior centers, working at activities and events in Volunteers of America's affordable housing facilities, collecting food, clothing and other needed items, hosting holiday parties and arts/crafts activities with intellectually disabled adults.
"The Action Team program is free and takes some of the burden away from those in charge of a school's service-learning or community service program," said Tanisha Smith, National Director of Volunteer Services for Volunteers of America. "Participating schools receive exclusive access to monthly telephone conference calls featuring Major Leaguers, unique service-learning project ideas, certificates of achievement signed by Major Leaguers and other motivational materials to help promote the importance of volunteering in their communities."
While the types of local activities that students can pursue are diverse, Action Team Captains have to organize a minimum of two community service projects during the school year. These can be food or clothing drives, or other events such as landscaping and beautification projects, interactive sports tournaments or similar activities. They are also required to present to groups of other students in their school, where they will distribute the Action Team brochure and show an informational video on the program. Before the end of the school year, Action Team Captains submit a written reflection about their volunteer experiences as members of the Action Team.
PSAs to Spread the Word
To encourage schools and students to participate in the program, Volunteers of America and the Players Trust have launched a national public service advertising campaign comprised of TV and radio public service announcements. The TV PSAs include Carlos Peña (Chicago Cubs), Chris B. Young (Arizona Diamondbacks) and Michael Young (Texas Rangers) and more than 30 high school students from the Dallas/Ft. Worth area – most of them members of the Action Team. Together, they perform various volunteer activities, encouraging students, teachers and administrators to join them by asking: "Are you in?" The call to action is to visit the dedicated Web site at http://www.ActionTeam.org, where schools can download an application to start their own local Action Team. The TV PSAs will be sent to more than 3,700 TV and radio stations in all 50 states and major markets, as well as national broadcast and cable networks.
Action Teams are administered by Volunteers of America local offices in 20 cities and 110 schools across the United States, including: Boston, Chicago, Cincinnati, Cleveland, Dallas/Ft. Worth, Denver, Detroit, Houston, Indianapolis, Minneapolis, Mobile, New York City, Oakland, Philadelphia, Pittsburgh, Portland (ME), San Francisco, Seattle, Tampa and Washington D.C. In addition, there are more than 50 schools participating in the online Action Team programs, which span from San Juan, Puerto Rico to Maui, Hawaii.
###